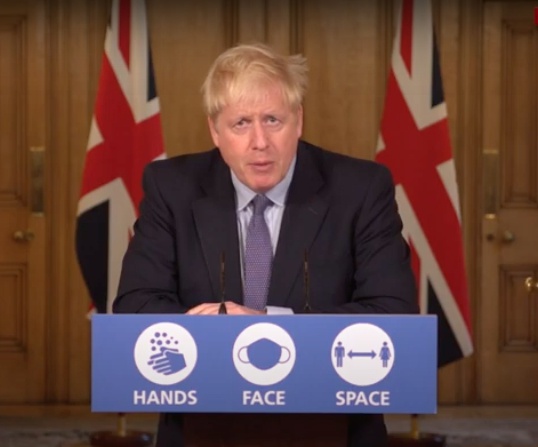 Greater Manchester, which includes Tameside and Oldham, will move into Tier 3 - the severest level of coronavirus restrictions - and the 'very high' Covid alert from Friday 23 October.
The news was announced at 5pm on Tuesday (20 October) in a press conference by Prime Minister Boris Johnson and the following has been confirmed:
Pubs and bars must close, unless they are serving substantial meals

People must not socialise with anybody they do not live with - or have formed a support bubble with - in any indoor setting, in any private garden or at most outdoor hospitality venues and ticketed events

People must not socialise in a group of more than six in an outdoor public space such as a park or beach, the countryside, a public garden or sports venue

People should try to avoid travelling outside the very high alert level area other than for work, education or for caring responsibilities or to travel through as part of a longer journey

Casinos, bingo halls, betting shops, adult gaming centres and soft play areas must close but gyms can stay open

Residents should avoid staying overnight in another part of the UK, and others should avoid staying overnight in the very high alert area
He said that the measures will be laid in Parliament on Thursday (22 October) and will then come into force just after midnight. They are then set to be reviewed every 28 days, with the first review coming by at least 11 November.
The fallout over the finances
Immediately before Mr Johnson's briefing, Greater Manchester mayor Andy Burnham gave an impassioned press conference of his own in which he said he was now looking to Parliament to intervene to come up with "a fair financial framework" for areas going into Tier 3 restrictions.
It came after acrimonious talks with the government - which have been playing out for 11 days - broke down again earlier on Tuesday without an agreement being reached, passing the midday deadline which had been set by ministers.
Mr Burnham said that local leaders were not offered enough support to protect people through the "punishing" winter ahead and accused the government of "playing poker with people's lives".
Mr Johnson said he was "deeply sorry" that it is "necessary to put these measures in place" and understood they are "tough" on businesses and individuals, but added that "not to act now" would put the lives of Greater Manchester's 2.8 million residents "at risk".
He said he "regrets" talks with Mr Burnham failed to agree a deal and "we would have a better chance of defeating the virus if we work together", but said a "generous and extensive" offer of financial support had been made to the region which the mayor "didn't accept it unfortunately".
The Prime Minister added: "Despite the failure to reach an agreement, I hope the mayor and council leaders in Greater Manchester will now work with us to implement these measures."
Mr Johnson said that Greater Manchester will initially receive £22 million to protect public health and local economies such as contact tracing and enforcement - which equates to approximately £8 per person - and is "on top of the £1 billion we're providing in funding for local authorities across the whole country".
He said the government is offering a "comprehensive package of support" and the Job Support Scheme means people affected by businesses which will have to close will still be paid. People on Universal Credit will also receive 80 per cent of their full income, he added.
But Mr Johnson repeatedly refused to say whether the government will give the extra £60 million in support for businesses that they reportedly offered local leaders, saying that "our door is open to continue that particular conversation".
However, he insisted that, in the interests of fairness, the package of support would be in line with what was agreed with Lancashire (£42 million for 1.5 million people) and the Liverpool City Region (£44 million for 1.5 million people) - the only other areas of the country currently in Tier 3.
Mr Burnham had described the £22 million offer, which he learnt confirmation of towards the end of his own press conference earlier, as "brutal" and said it was "no way to run the country in a national crisis".
He added: "This is not right, they should not be doing this, grinding people down, trying to accept the least they can get away with. £20 million to fight the situation we are in is frankly disgraceful."
Mr Burnham had earlier said that local leaders agreed that £15 million a month was needed to support the people living in the 10 boroughs - including Tameside and Oldham - to effectively top up the furlough scheme to 80 per cent, at a cost of £90 million to the end of the financial year.
He said he was prepared to accept £75 million or even go to £65 million as the "bare minimum" that was "needed" and not "wanted" in order to "prevent a winter of real hardship". But he said the government "refused to accept this" and they "walked away" from talks at 2pm.
What does Tier 3 actually mean?
The government has issued the below round-up of what the measures under the 'very high' Covid alert mean - which advises on other areas not specified by the Prime Minister above.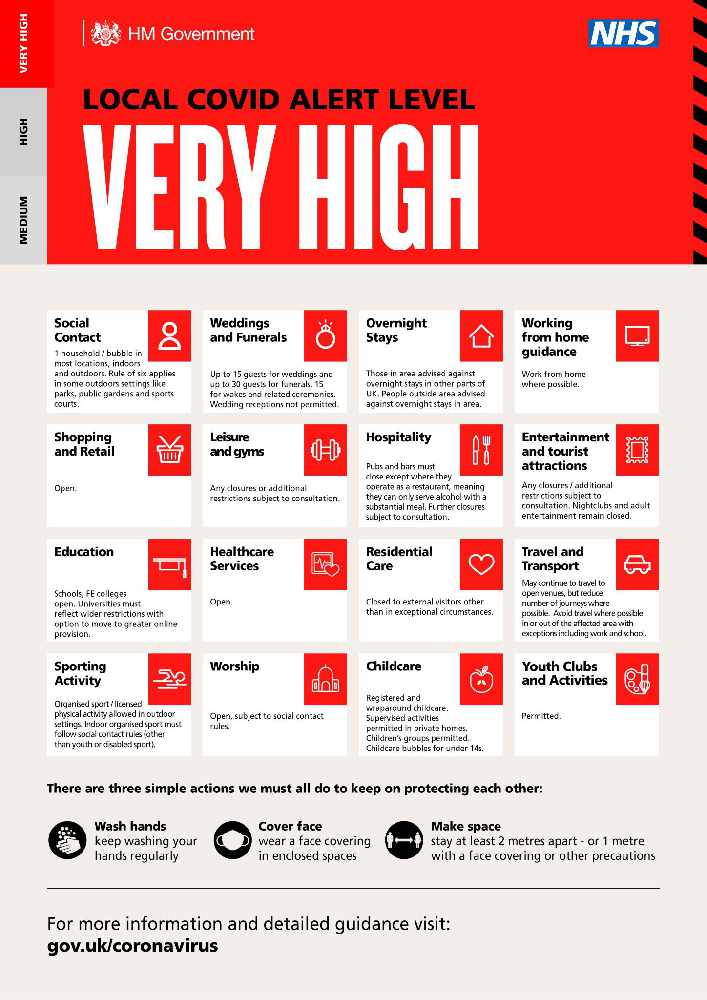 What's the latest figures in Greater Manchester?
Covid-19 cases across the region have been increasing since early September.
For the week ending 1 September, there were around 44 cases per 100,000 people across the 10 boroughs.
In the week ending 16 October, the infection rate has increased to around 384 cases per 100,000. The national average in England is around 96 cases per 100,000.
In the last 10 days, the rate appears to have steadied. In Tameside, the rate as of the week ending 16 October is 363.8 and in Oldham it is 439.
How local leaders have reacted
Greater Manchester's MPs were told the region's fate in a call with Health Secretary Matt Hancock before the Prime Minister took to the podium in Downing Street.
Ashton-under-Lyne MP Angela Rayner - who is also Labour's deputy leader - said she was "disgusted" by the government's offer of £22 million and that the Prime Minister would be "personally responsible for driving people in my constituency and across Greater Manchester into destitution and poverty".
£8 per person in Greater Manchester. An absolute disgrace, I am disgusted. Meanwhile, consultants are getting paid £7,000 per day for test & trace.@BorisJohnson you will be personally responsible for driving people in my constituency and across GM into destitution and poverty.

— 🌈 Angela Rayner 🌈 (@AngelaRayner) October 20, 2020
Oldham West and Royton MP Jim McMahon has tweeted to say that he feels "too much of this is about politics and not people" whilst offering more detail on what financial support the government has offered the region.
Discussing with the Health Secretary is over; too much of this is about politics and not people

Confirmed;
£22m (£8pp) for contact tracing, local comms
£55m for business and worker support - now off the table
£TBC for councils as part of local gov next tranche allocation

— Jim McMahon MP (@JimfromOldham) October 20, 2020
Meanwhile, Stalybridge and Hyde MP Jonathan Reynolds said he "just cannot fathom" why the government "walked away from talks" over a difference of £5 million and asking individual councils to "bypass the mayor" to reach agreement over funding with ministers is "absolutely the wrong way forward".
In a video on his Facebook page, he said: "The reason the talks broke down is a difference of £5 million between what Greater Manchester was willing to accept and what the government was willing to offer. Now, £5 million is obviously a lot of money but it's frankly not in the context of what has been spent already during the crisis.
"You'll have seen in the press in the morning the figure of £22 million was given in correspondence from the Secretary of State for Communities and Local Government. That is money for things like Test and Trace to improve that locally in a Tier 3 area - it's not about the economic support and this argument about money is about the economic support which people clearly need if their businesses are being shut down or their job is being shut down by order of the government.
"What we've just been told in a meeting of Greater Manchester MPs via Zoom with the Secretary of State for Health is that £60 million is no longer on the table - the government has taken that away because they have walked away from talks. Instead, it's asking individual councils to come to agreement with the government.
"That is absolutely the wrong way forward. If they think they can bypass the mayor by going round him, if they think that's the right way to spend money, it clearly isn't. We're a city, we've got to spend money on supporting people as a city-wide economy because that's what makes sense.
"I just cannot fathom how the government have walked away for the amount of money that's been described. Andy Burnham is absolutely right to be standing up for people's jobs, for their living, for their livelihoods because of what the impact these restrictions will have. This could last for up to six months, it's reviewed every 28 days when it's looked at again, but clearly this is significant - everyone accepts that. So I think Andy deserves our support and we should stick with him."
Keep up to date with all the latest local and national developments here: https://www.questmedianetwork.co.uk/news/daily-coronavirus-updates/.