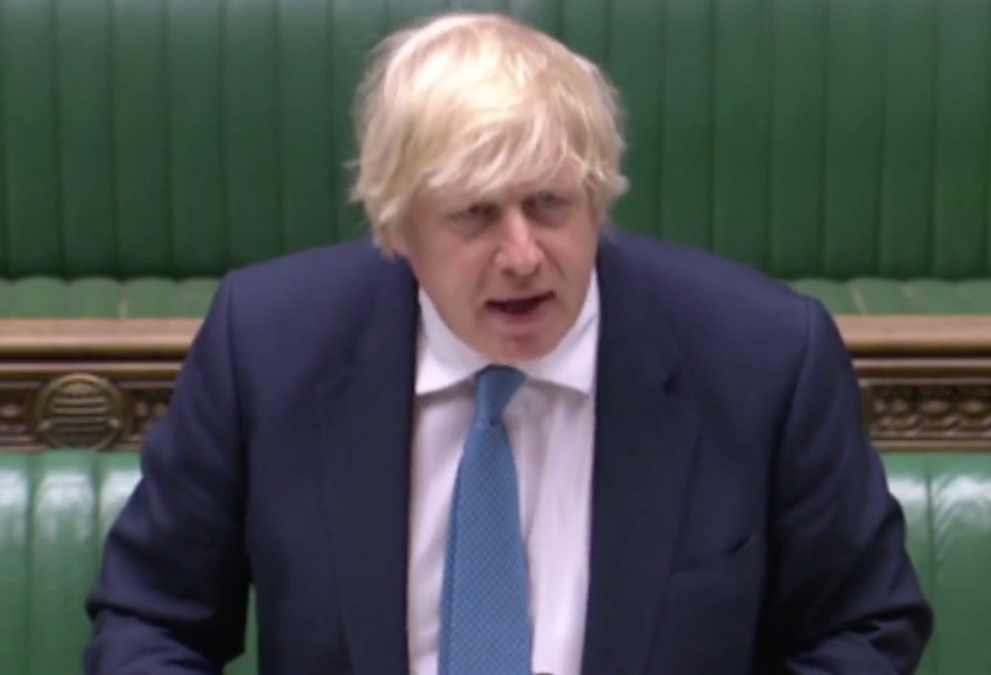 Free school meals will be provided to around 1.3 million children during the summer holidays, after the government made a U-turn following a passionate campaign led by footballer Marcus Rashford.
Food vouchers - for £15 a week - will be made available to those children in England who are currently eligible for the scheme, and will last for six weeks in what the Department for Education has described as a new 'Covid Summer Food Fund'.
We are making sure no child goes hungry during this challenging and unprecedented period.

A new Covid Summer Food Fund will support children eligible for free school meals with a 6 week voucher this summer. pic.twitter.com/1q6Els0QzJ

— Department for Education (@educationgovuk) June 16, 2020
Prime Minister Boris Johnson said he "understands children and parents face unprecedented situations" during the coronavirus outbreak.
He added at Tuesday's Downing Street daily briefing that he had spoken to Rashford earlier in the day and congratulated him on his campaign.
The PM said: "I talked to Marcus Rashford and congratulated him on his campaigning, which I only became aware of today. I do think it is right that we should be looking after families of the vulnerable."
The Department for Education had initially said it would not extend the voucher scheme, despite Rashford writing an emotional open letter to all MPs yesterday (Monday) - which was retweeted more than 140,000 times - in which he said "the system isn't built for families like mine to succeed".
But, in a positive and surprise move, the government has now changed its mind.
Mr Johnson said the scheme had only existed to provide meals during school time, but that he understood many families would be struggling and the scheme's extension will "help the kids of the families that really need it".
Downing Street had earlier said the extra support will cost around £120 million - in addition to £63 million already pledged for councils to help families and kids over the summer holidays.
Labour have called it a welcome move and "victory for the 1.3 million children who were at risk of going hungry this summer".
The Child Poverty Action Group (UK) said: "We applaud the government's decision to continue free school meals provision in England through the summer holidays, and congratulate Marcus Rashford and everyone involved in the campaign.
"This a commendable decision which recognises the reality for tens of thousands of families who are in hardship or on the brink of it because of the pandemic.
"For many families struggling in the wake of Covid-19, this free school meals provision will make the difference between staying above water and not. This change is testament to the strong feeling across the country that a more compassionate stance and strong anti-poverty policies are needed."
'I don't even know what to say' - how Rashford responded
After hearing the news, Rashford initially tweeted: "I don't even know what to say. Just look at what we can do when we come together, THIS is England in 2020."
I don't even know what to say.
Just look at what we can do when we come together, THIS is England in 2020.

— Marcus Rashford (@MarcusRashford) June 16, 2020
He has since posted a longer statement directly to MPs, which reads: "This was never about me or you, this was never about politics, this was a cry out for help from vulnerable parents all over the country and I simply provided a platform for their voices to be heard.
"I stand proud today knowing that we have listened, and we have done what is right. There is still a long way to go but I am thankful to you all that we have given these families just one less thing to worry about tonight.
"The wellbeing of our children should ALWAYS be a priority."
His football club, Manchester United, tweeted to say how proud they were of their number 10 for influencing a policy change at number 10 Downing Street...
A hero. An inspiration. One of our own.

We are so proud of you, @MarcusRashford ❤️ pic.twitter.com/haAb0m2I4u

— Manchester United (@ManUtd) June 16, 2020
'What a hero' - how local politicians have reacted
‪Denton MP Andrew Gwynne said: "When people say campaigning doesn't make a difference...
"What a hero Marcus Rashford is in forcing a massive Government U-turn on free meals for kids over summer. Tory MPs were going to be whipped to vote against a Labour motion on the issue this afternoon. Looks like common sense has prevailed."
Angela Rayner, MP for Ashton, Droylsden and Failsworth, commented: "The government have now done a U-turn on free school meals for children during summer, they will fund the £120 million cost. Not a time to gloat but to say a massive thanks to footballer Marcus Rashford who led the campaign and many others too from all sides of the political spectrum 👏👏👏 "
She also later tweeted:
The @MarcusRashford campaign&his intervention on the FSM debate was that he never forgot that there were those who helped his mum and his family when he was a kid. l too had FSM and millions of children will now be fed during summer knowing our society supported them, wonderful👏

— 🌈 Angela Rayner 🌈 (@AngelaRayner) June 16, 2020
Stalybridge and Hyde MP Jonathan Reynolds also congratulated Marcus on his "heartfelt intervention" to help so many struggling families.
He said: "I spoke to (BBC) Radio 4 this morning (Tuesday) about the need to extend the free school meals vouchers to avoid holiday hunger: 'I absolutely cannot understand why this is the hill they (the government) want to die on.'
"I'm completely thrilled that the Prime Minister has finally announced a U-turn on this, ahead of the vote Labour pushed for this afternoon. Well done to Marcus Rashford for his heartfelt intervention which has helped ensure thousands of struggling families keep the help they really need."
Oldham West and Royton MP Jim McMahon praised the footballer for using his platform to help so many children who would have gone without meals during the summer.
Well done to Marcus for using his platform to help so many kids this summer.

It's a shame the campaign needed to happen in the first place but I'm glad government realised it's not too late to do the right thing and #MakeTheUTurn #HolidaysWithoutHunger https://t.co/YYaRl98jEU

— Jim McMahon MP (@JimfromOldham) June 16, 2020
High Peak MP Robert Largan said: "I'm really pleased that the Government have listened and will be setting up a COVID Summer School Fund to extend free school meals over the summer.
"I was one of those MPs who urged the Government to look again at this and I'm pleased that we've got the right result for a huge number of children.
"A huge well done to Marcus Rashford whose campaign has done so much to highlight the issue. A brilliant footballer and a true role model."
Mayor of Greater Manchester, Andy Burnham, tweeted:
Well done Marcus. Greater Manchester is extremely proud of you. https://t.co/Eyn6a69Y1Z

— Andy Burnham (@AndyBurnhamGM) June 16, 2020