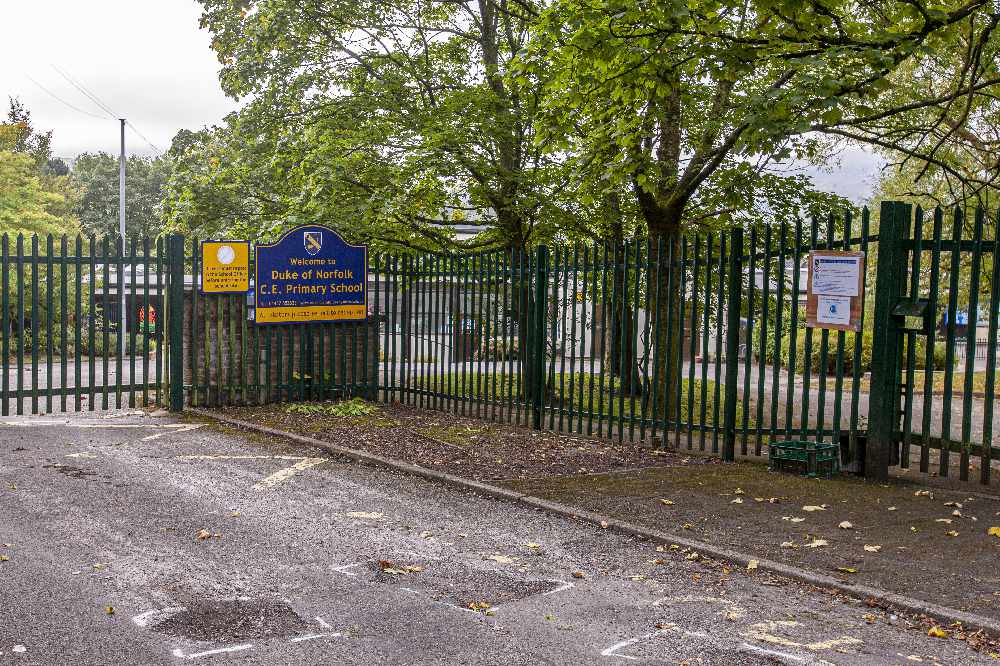 Glossop's Duke of Norfolk Primary closed at the end of the school day on Tuesday due to Covid-19 and will stay shut until September 29.
Headteacher Esther Bland announced the decision on the Royle Avenue school's website.
She also explained that the buildings would be 'deep cleaned' before pupils and staff return.
Posted on Tuesday afternoon, a statement from Mrs Bland and deputy head Miss K Wilson, said: "We have been advised by Public Health England that there have been two confirmed cases of Covid-19 within the school.
"As one of these cases is a member of the catering team and has had widespread contact with the rest of the school, we have to close the school for 14 days.
"We have not taken this decision lightly as we recognise the implications for children, staff and families, however, as professionals, we believe it is the right decision."
In an online letter to parents, they say: "We know that you may find this concerning, but (we) are continuing to monitor the situation and are working closely with Public Health England.
"Whilst we have already been stringently following government guidance, we are continuing to look at our practices and at how we can avoid a further wide-spread closure in future. We will update you with this information.
"Please be reassured that for most people, coronavirus (Covid-19) will be a mild illness.
"We have followed the national guidance and have identified that many of the children will have had some contact with the infected member of staff.
"In line with the national guidance we recommend that your child now stay at home and self-isolate until September 29. We are asking you to do this to reduce the further spread of Covid-19 to others in the community.
"If your child is well at the end of the 14 days period of self-isolation, then they can return to usual activities."
Dean Wallace, Director of Public Health for Derbyshire, said: "We have been working closely with the school and Public Health England to make sure all the correct actions have been taken.
"The school acted swiftly in seeking Public Health England advice after two members of staff tested positive.
"Following a full joint risk assessment by Public Health England, a decision was taken to close the school. Our local public health team remain on hand for support.
"I understand how disruptive the closure of the school will be for parents but it is also necessary to ensure the safety of all the pupils, staff and wider school community.
"It's important to remember that this virus hasn't gone away and we all need to continue washing our hands, covering our faces in enclosed spaces and staying apart.
"I'd urge anyone who develops symptoms to act as though they have the virus, to stay at home immediately and book a test."
Keep up to date with all the latest local and national developments here: https://www.questmedianetwork.co.uk/news/daily-coronavirus-updates/.