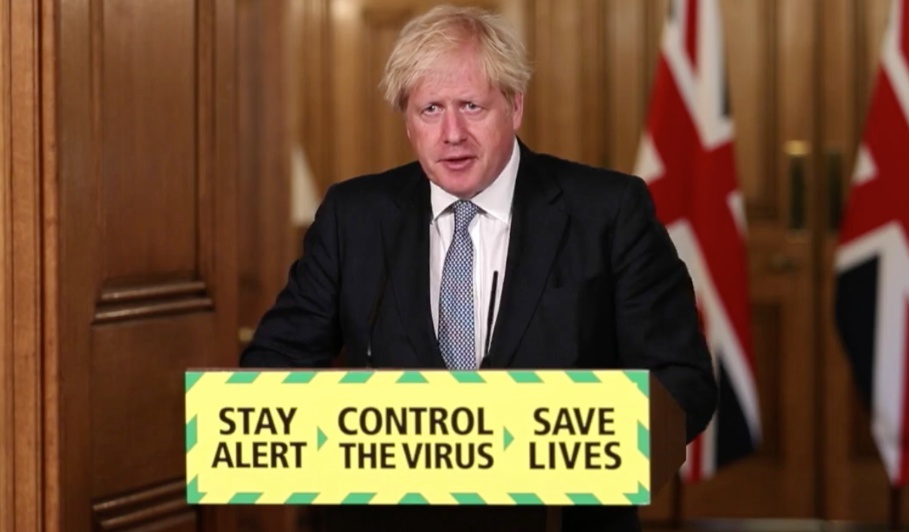 A further easing of restrictions due to come in on Saturday in England have been postponed, the Prime Minister has announced.
In a press conference at Downing Street on Friday afternoon, Boris Johnson said he had hoped to reopen some firms on 1 August but confirmed that it is now being postponed for at least a fortnight.
This will affect casinos, bowling alleys and skating rinks, while indoor performances will also not be able to resume. This also means fans will not be allowed to attend the pilot sports events scheduled for this weekend in England.
Wedding receptions of up to 30 people will not be permitted but ceremonies that are Covid-19 secure can still go ahead.
The need to wear a face covering will also be extended to galleries, cinemas and places of worship - which will become enforceable in law from 8 August.
But social contact rules are not being changed nationally.
On working from home, the Prime Minister says the guidance - under which more going in to workplaces is to be encouraged from 1 August - remains the same.
The "national pause" on shielding will also still go ahead from Saturday, he said.
The Prime Minister reiterated that people should follow rules such as washing their hands and getting tested if they develop coronavirus symptoms.
"Unless people follow the rules and behave safely, we may need to go further," Mr Johnson warned.
He also said that "we should now squeeze that brake pedal to keep the virus under control" as the prevalence of the virus in England is now likely to be rising.
On the tightening of lockdown restrictions imposed in Greater Manchester - including in Tameside and Oldham - on Thursday, Mr Johnson insisted the measures taken do not constitute a "lockdown". He said people will feel that it's "disruptive and intrusive" but it's really a return to some social distancing rules from earlier in the pandemic.
He also said that reopening schools in September should still be a "national priority".
Mr Johnson added: "We will continue to institute local lockdowns in order to stop the virus getting out of control."
The message that he continued to repeat during the briefing was for people to remember 'hands, face, space' - washing your hands, covering your face and keeping your distance from others.
Meanwhile, the Prime Minister also pledged that no-one who has coronavirus will be discharged into a care home and thanked mosques, imams and faith leaders for helping to get the message across to ethnic minority communities that the pandemic should be taken seriously.
The announcement came as the R number for the UK as a whole - the average number of people someone with coronavirus passes it on to - has now been updated to between 0.8 and 0.9, having previously been between 0.7 and 0.9. For England it is between 0.8 and 1.0. The government has previously warned the R rate needs to stay below one for lockdown measures to be eased.
Keep up to date with all the latest local and national developments here: https://www.questmedianetwork.co.uk/news/daily-coronavirus-updates/.