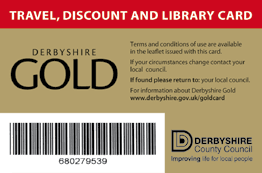 Derbyshire County Council has announced that all Gold Card holders can now travel free-of-charge before 9.30am, every day of the week, from today (Friday).
The council has agreed with all of the county's bus operators that all cardholders - which includes older and disabled passengers - can travel earlier than the usual weekday times, as a temporary measure.
Gold Card is Derbyshire's version of the English National Concessionary Travel Scheme (ENCTS), which usually allows eligible residents to travel free after 9.30am weekdays.
Free bus travel is already allowed anytime at the weekend and on bank holidays. There are no changes to these times.
DCC leader Councillor Barry Lewis said: "Even in these difficult times we recognise that people will still need to make essential journeys such as getting their shopping or attending medical appointments. So in line with other organisations which are extending their opening hours we will support as many residents as possible by offering temporary free travel at this earlier time during the coronavirus outbreak."
Card holders who want to travel on buses in Derbyshire before 9.30am can travel free-of-charge. Anyone with an ENCTS pass from other parts of the country will also be able to travel free-of-charge, before 9.30am on local buses.
Gold Card also provides discounts at around 700 shops and on other services and can be used as a library card. More information can be found at www.derbyshire.gov.uk/goldcard.
Keep up to date with all the latest local and national developments here: https://www.questmedianetwork.co.uk/news/daily-coronavirus-updates/.