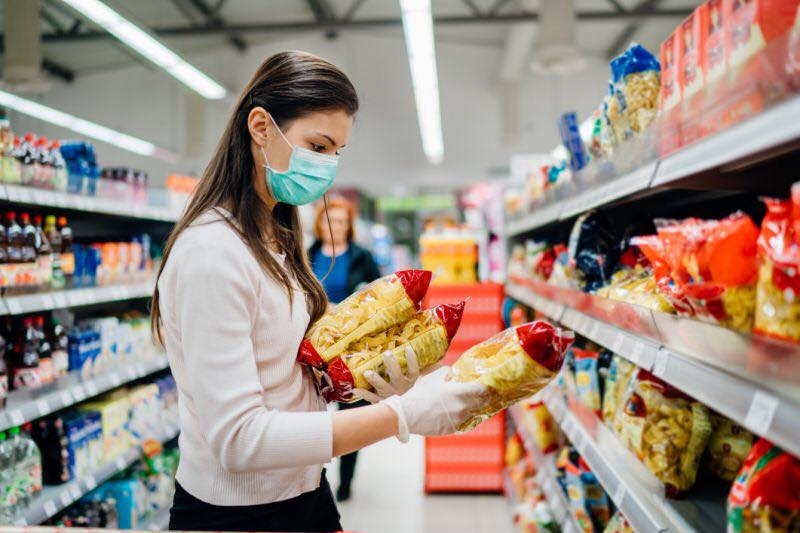 Face coverings will become compulsory for people to wear in shops and supermarkets in England.
It will be mandatory when legislation comes into force from Friday 24 July.
Prime Minister Boris Johnson has said that enforcement will be carried out by police and anyone who doesn't wear a face covering will face a £100 fine. It will be reduced to £50 if paid within 14 days.
Children under the age of 11 and people with certain disabilities - including people who experience breathing difficulties - will be exempt.
Regulations will be made under the Public Health (Control of Disease) Act 1984.
Health Secretary Matt Hancock has said that staff at shops and supermarkets can "refuse entry" to people not wearing face coverings and police enforcement would be "the last resort".
He also told MPs that the mandatory use of coverings would give the public "more confidence to shop safely and enhance protection" for shop workers.
Face coverings have been mandatory for people using public transport since 15 June.
Scotland and other major European nations like Spain, Italy and Germany have already made face coverings mandatory in shops.
Labour has criticised the government for a "slow and muddled" response on face coverings and questioned why wearing them in shops and supermarkets isn't coming into force until 24 July.
It comes as the Prime Minister urged people to wear them in confined settings such as shops and was pictured wearing a face covering at a shop in his Uxbridge constituency, but Cabinet minister Michael Gove told the BBC's Andrew Marr Show on Sunday that he didn't think they should be mandatory - instead a matter of "courtesy and good manners" to wear them.
Downing Street has said that it will keep the guidance on face coverings in other settings, such as offices, under review.
Keep up to date with all the latest local and national developments here: https://www.questmedianetwork.co.uk/news/daily-coronavirus-updates/.