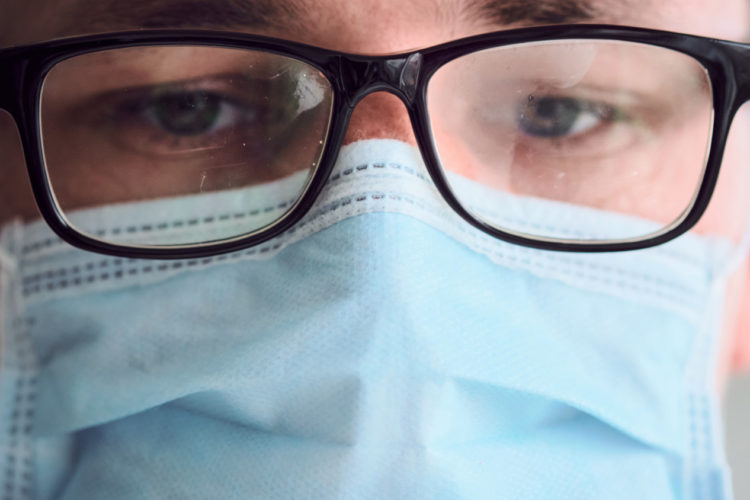 Face masks have become as important an item as our keys and wallet when we're leaving the house - essential on public transport and soon they must be worn in shops. 
For from July 24, it will become law to wear face masks when shopping and those failing to do so could face a fine of £100.
However, for wearers of glasses, they can create unexpected challenges.
Hyde Specsavers is now offering advice for those with glasses who have found them steaming up or slipping while wearing a mask and is offering the following tips:
1. Stop slipping by wrapping the string of the face mask around the sides of your glasses, rather than your ears – just make sure you're careful when taking off your glasses as your mask will be attached
2. If you can (and it's comfortable), pull your mask further up your nose and place glasses on top. This will help seal the mask around your nose, stopping the warm air from your breath escaping and steaming up your lenses
3. Try using a piece of surgical tape to hold your mask in place on the bridge of your nose and give your specs additional grip.
Farkhanda Naqvi, ophthalmic director at Specsavers in Hyde and Denton, said: "There are a few difficulties people face when it comes to wearing a face mask while also wearing glasses. One of the most common complaints is that glasses can get steamed up, making it more difficult to see.
"Wherever possible, particularly for NHS staff and other key workers, our advice is to wear contact lenses. But we appreciate this is not the best option for everyone.
"If that isn't an option, you need to make sure that the face mask fits tightly around your nose and cheeks as this reduces the amount of breath escaping and causing condensation on the lenses."
Keep up to date with all the latest local and national developments here: https://www.questmedianetwork.co.uk/news/daily-coronavirus-updates/.