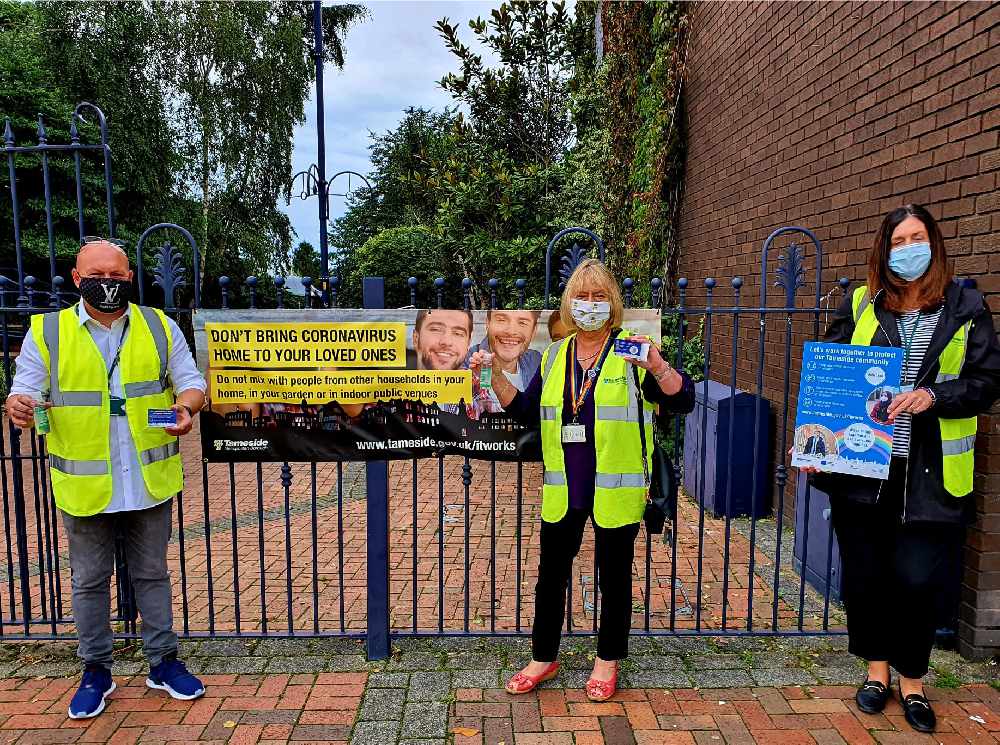 There are "tentative" signs that Tameside's hard work in complying with additional Covid-19 measures imposed in Greater Manchester is beginning to pay off, but the council warns that it's much too soon to talk of lifting the restrictions. 
The rate of positive coronavirus tests per 100,000 people in Tameside has dropped from 37.1 to 28.3 in the last two weeks - but it remains above the threshold for an amber alert to be imposed by the government.
Tameside Council say while the new rate is "encouraging", the rate needs to fall much further in order to safely lift the restrictions.
The authority has confirmed it will be stepping up its presence in the community, with officers visiting hotspot and busy areas to explain what people should be doing to protect themselves and help stop the spread of Covid-19.
They are also continuing to work alongside Greater Manchester Police to visit premises and check they are complying with restrictions.
Up to 23 August, council officers had visited 279 licensed premises and 606 other businesses (a total of 885) - some prompted by complaints from the public. Overall, issues were encountered in only 25 cases - less than three per cent.
To make sure the borough's Covid-19 rate continues to fall, the council is calling on people to make sure they don't "relax their efforts at this vital time" and wants residents and businesses to "set a positive example to friends, families, neighbours and customers" by continuing to adhere to the Greater Manchester restrictions to contain the virus.
These include not mixing with people from other households in their homes, gardens or indoor public settings, and not arranging or attending any gatherings of more than 30.
People are also being encouraged to continue to wash their hands regularly, follow social distancing at all times and wear a face covering when required.
Anyone who has symptoms of coronavirus must self-isolate and get a test immediately by visiting www.nhs.uk/coronavirus or calling 119 to book.
'We have reached a critical point in our journey'
Tameside Council's executive leader, Cllr Brenda Warrington, was out in Denton on Thursday morning (27 August) speaking to residents and businesses.
She said that Tameside has "reached a critical point in our journey" and everyone continuing to stick to the measures in place will reduce the risk of a "catastrophic" local lockdown.
Cllr Warrington also said the position will be reviewed in a fortnight, based on advice from Tameside's director of public health Jeanelle de Gruchy.
I'm out in denton speaking to residents about how they can keep themselves & others safe from Covid. I'm so proud of the way our community has responded so far, we need to keep going & stick to the rules so we see restrictions lifted as soon as is safe to do so #itworks pic.twitter.com/qgmVhFo7ai

— Cllr Brenda Warrington (@tmbc_leader) August 27, 2020
She said: "Despite reductions in recent days, the number of people in Tameside testing positive for covid-19 remains too high. I am really proud of the commitment our communities and businesses have shown to limit the spread of the virus. The Tameside spirit is clearly evident, and for this I thank our residents.
"We have reached a critical point in our journey, and with schools poised to reopen we must all play our part in ensuring that recent reductions are sustained and rates do not start to go in the wrong direction.
"Now, more than ever, we must continue to follow additional protective measures. Regular handwashing with soap and water is the most effective way to prevent the spread of the virus along with catching coughs and sneezes in a tissue and binning it."
Cllr Warrington added: "It remains vital that we all continue to socially distance ourselves outside our homes, wear a face covering when in enclosed indoor spaces and self-isolate and get tested if we have any symptoms.
"Continuing to stick with these protective measures as well as restrictions around mixing with other households will ensure that we reduce the risk of a local lockdown which would be catastrophic for our communities and businesses.
"We will review this position in two weeks' time based on advice being provided by the borough's director of public health on both the levels and trends of infection and the effectiveness of the measures we have in place to contain the virus.
"I remain hopeful that if we continue to see sustained reductions we will see the lifting of temporary additional restrictions and the removal of the borough from the national watchlist."
Keep up to date with all the latest local and national developments here: https://www.questmedianetwork.co.uk/news/daily-coronavirus-updates/.