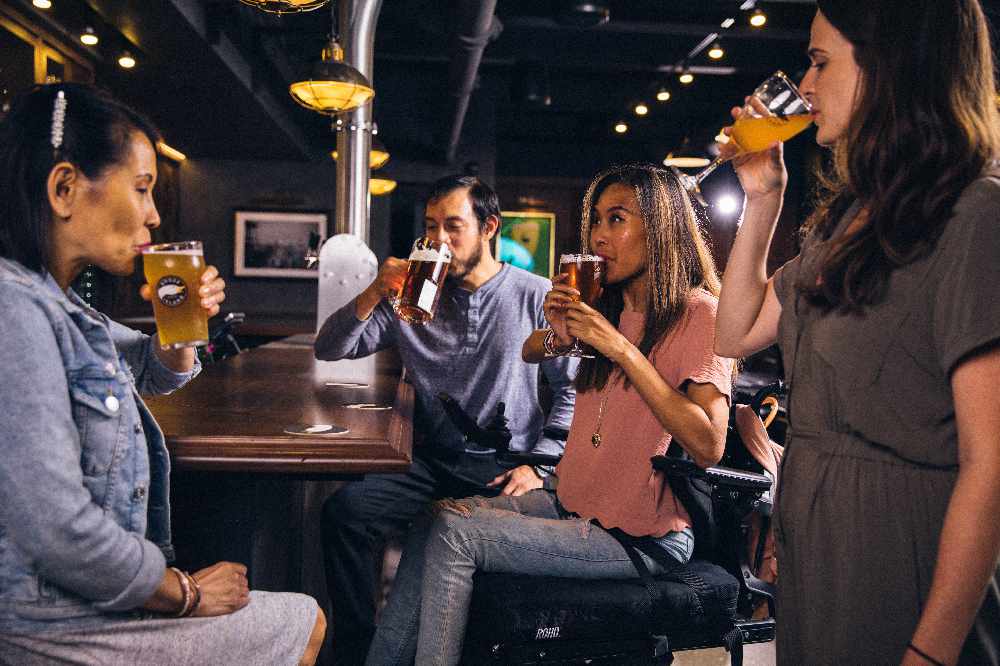 • PM in appeal to public to stay home and help stop spread of virus. • Historic first as Government pledges to pay 80 per cent of 'retained' workers' wages.
'Don't go out tonight' – that was the clear message from Prime Minister Boris Johnson in his latest daily statement on the coronavirus pandemic this afternoon.
All cafes, pubs, bars restaurants are to close tonight 'as soon as they reasonably can' said the PM, and they are not to open tomorrow.
However take-out services will still be available.
Nightclubs, theatres, cinemas, gyms and leisure centres have all been asked to close on the same timescale.
The PM added: "These are places where people come together, and indeed the whole purpose of these businesses is to bring people together. But the sad thing is that today for now, at least physically, we need to keep people apart."
He stressed that the measures would be reviewed each month.
He continued: "Listening to what I have just said, some people may of course be tempted to go out tonight. But please don't. You may think you are invincible, but there is no guarantee you will get mild symptoms, and you can still be a carrier of the disease and pass it on to others.
"So that's why, as far as possible, we want you to stay at home, that's how we can protect our NHS and save lives."
Following the closure of schools today, the move is the next step in an effort to halt the spread of the virus and enable the NHS to cope.
Economic measures
Meanwhile the Chancellor Rishi Sunak also unveiled a further series of measures to support people, jobs and businesses. Those measures include an historic first with the Government pledging to step in and help to pay people's wages with the creation of a 'Coronavirus Job Retention Scheme'.
The Chancellor explained: "Any employer in the country – small or large, charitable or non-profit - will be eligible for the scheme.
"Employers will be able to contact HMRC for a grant to cover most of the wages of people who are not working but are furloughed and kept on payroll, rather than being laid off.
"Government grants will cover 80 per cent of the salary of retained workers up to a total of £2,500 a month – that's above the median income.
"And, of course, employers can top up salaries further if they choose to.
"That means workers in any part of the UK can retain their job, even if their employer cannot afford to pay them, and be paid at least 80% of their salary.
"The Coronavirus Job Retention Scheme will cover the cost of wages backdated to March 1st and will be open initially for at least three months - and I will extend the scheme for longer if necessary."
Speed of the essence for workers
In response to the latest measures, Sacha Lord, Night Time Economy Adviser for Greater Manchester, stated: "It's with sadness that I listen to the measures tonight, however the health and safety of the public is our priority. We must all work together to slow the spread of Coronavirus and I continue to urge everyone to take social distancing measures seriously.
"From a business perspective, the grants, interest-free loans, and the abolition of business rates are welcomed and will now be needed more than ever.
"However, with the immediacy of the measures being introduced tonight, much more needs to be done to support all workers across leisure and hospitality, and I would like to see these measures being implemented much much faster. I fear it will not be sustainable for many businesses to hold on until the end of April.
"I stress that paying staff wages and job retention is key, and I urge all operators to access the Government options available to them at gov.uk/coronavirus.
"I also urge, where possible, for food and beverage operators to implement takeaway and delivery facilities. We will be providing guidance to businesses switching to these methods shortly."
He added: "I will be asking for clearer advice and options available for the self employed. While they have access to Universal Credit payments in full, at a rate equivalent to statutory sick pay eligible to employees, this sadly does not go far enough.
"To all leisure and hospitality operators across Greater Manchester, I stand by you and together with the GMCA, I am working hard to ensure businesses receive as much help as possible, and are supported during this economic emergency.
"To the NHS staff, thank you for your ongoing commitment and effort in the face of adversity. This will be remembered."