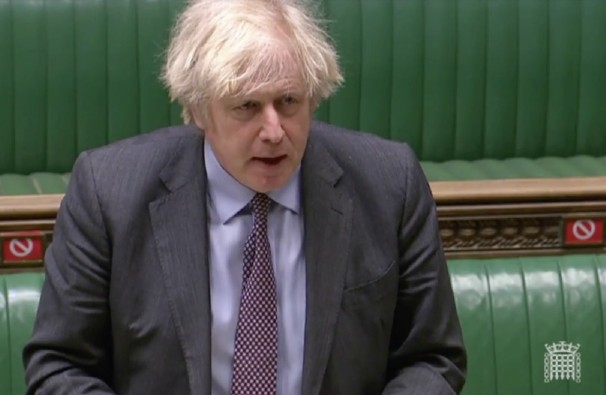 Prime Minister Boris Johnson has set out the government's long-awaited 'roadmap' for easing Covid-19 lockdown restrictions in England from March.
He told MPs in the House of Commons on Monday afternoon (22 February) that the threat of Covid-19 remains substantial but steps can be taken because of the "resolve of the British public and the extraordinary success of our NHS in vaccinating more than 17.5 million people across the UK."
The plan sets out how restrictions will be "cautiously but irreversibly" eased, he said, but described it as a "one-way road to freedom".
But he also warned that no vaccine can ever be 100 per cent effective and there is "no credible route to a zero-Covid Britain nor indeed a zero-Covid world".
There will be no regional tier systems so the easing of lockdown will happen across the whole of England.
Mr Johnson will hold a press conference at Downing Street at 7pm on Monday to answer questions from the public and the media.
He set out four key steps for relaxing measures, which are explained below, as he hopes to be able to lift the majority of rules by 21 June - but it's dependent on cases, deaths and hospital admissions continuing to fall.
More detail can be found on the government website here: https://www.gov.uk/government/publications/covid-19-response-spring-2021.
Step one: from 8 March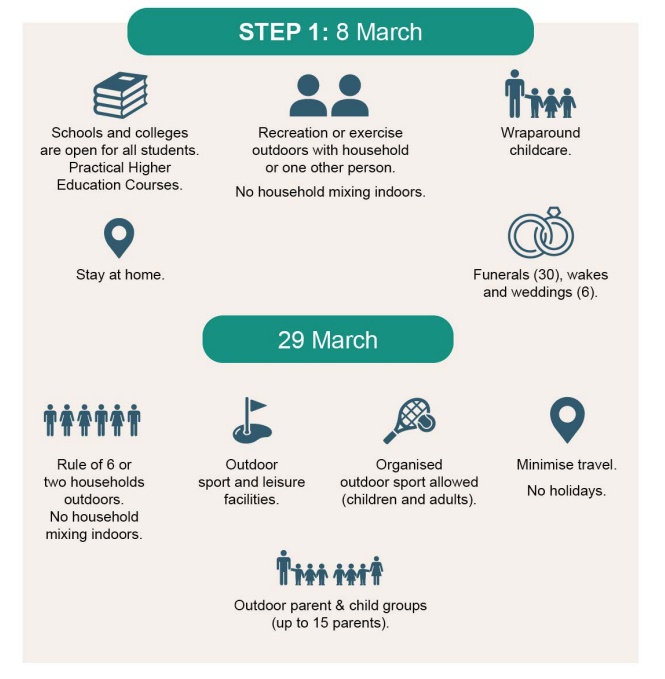 Schools
Children and young people of all ages will return to classroom learning in schools and colleges in England.
Outdoor after-school sports and activities will be allowed.
Students and staff in higher education, further education and secondary schools will be required to wear face coverings in classrooms and shared spaces like corridors - unless 2m social distancing can be maintained.
Secondary school pupils and college students will have to be tested twice every week, which will initially happen on site and then carried out at home by parents or carers.
Students on higher education courses requiring "practical teaching, specialist facilities or on-site assessments" will also return.
Mr Johnson said the government was reviewing the timing for the return of other face-to-face teaching in colleges and universities, and that a decision would be made by the end of the Easter holidays.
Socialising
People will be allowed to meet one other person from outside your household outdoors for "recreation".
This will mean that people will be able to meet up just for a drink or picnic, as opposed to only exercising.
Care homes
Care home residents will be allowed to have "one regular indoor visitor", but they must wear full PPE and respect social distancing.
The "stay at home" order will remain in place until 29 March, Mr Johnson said.
Then from 29 March:
Socialising
Outdoor gatherings of up to six people from two different households can socialise outdoors, including in a private garden.
Sports
Outdoor sports facilities such as tennis and basketball courts, outdoor swimming pools and golf courses will be able to reopen, so adults and children will be allowed to take part in organised outdoor sports again.
'Stay at home' message to go
The formal "stay at home" order will be lifted.
People will still be encouraged to work from home where possible and international travel will still be largely illegal.
Step two: from no earlier than 12 April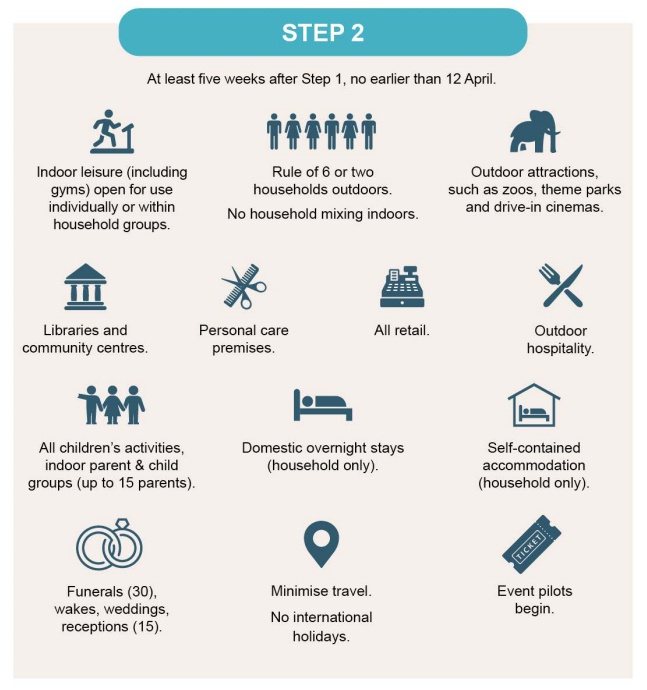 Major parts of the economy will be permitted to reopen - including non-essential retail, hairdressers, beauty salons and personal care services.
Hospitality venues will reopen but for outdoor service only and with no mixing of households indoors.
It means people can go to a pub, restaurant or bar with an outdoor area in a group of up to six people from two different households.
If you're inside, you are only allowed to be with members of your own household.
The Prime Minister adds that there will be no rules on 'substantial meals' or curfews on closing times, but people will have to be seated when consuming food and drink.
Gyms, libraries, zoos, museums and theme parks will reopen but people can only go to these indoor settings with members of their own household.
If they are outside, you can go in a group of six made up of two different households.
Hotels, hostels, Air BnBs and self-catering holiday accommodation will reopen but only for household groups - so you can't go on holiday with someone you don't live with or who isn't in your support bubble.
Up to 30 people will be able to attend funerals and the maximum number of people at a wake will increase from six to 15.
Meanwhile, the Driver and Vehicle Standards Agency (DVSA) has since confirmed that driving and theory tests will resume no earlier than 12 April.
The DVSA say it is working closely with the government and will provide more information as soon as it is able to on other tests, lessons and training.
Step three: from no earlier than 17 May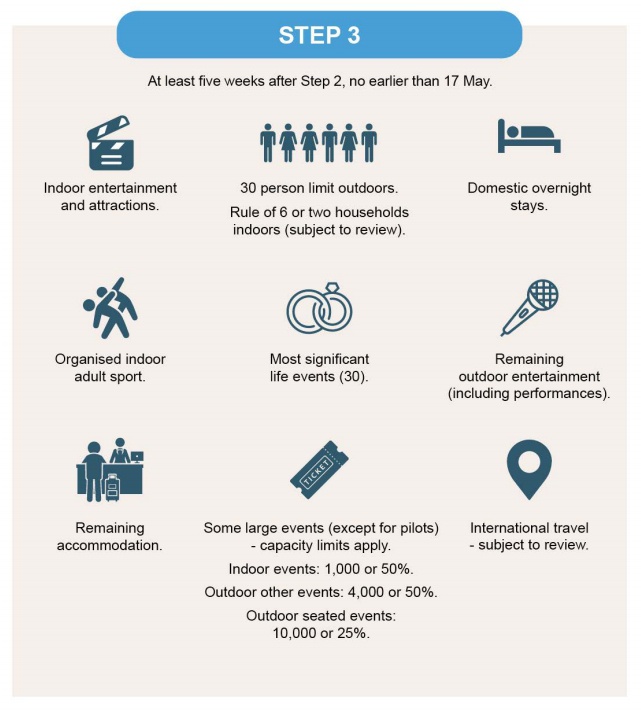 Outdoors, most social contact rules will be lifted and up to 30 people will be able to meet up outdoors, including in pub and restaurant gardens.
Mixing indoors will be allowed for two households, but the rule of six will apply for indoor hospitality and elsewhere.
Cinemas, soft play centres, the rest of the accommodation sector, hotels and indoor exercise classes will resume.
Large-scale sporting events or performances will be allowed with up to 1,000 people indoors.
Outdoors, a capacity of up to 4,000 will be allowed – or the venue being half full – whichever is lower.
In the very largest outdoor seated venues, such as football stadiums, up to 10,000 people will be allowed to attend - or a quarter of capacity.
Up to 30 people will be able to attend weddings, receptions, funerals and wakes.
Step four: from no earlier than 21 June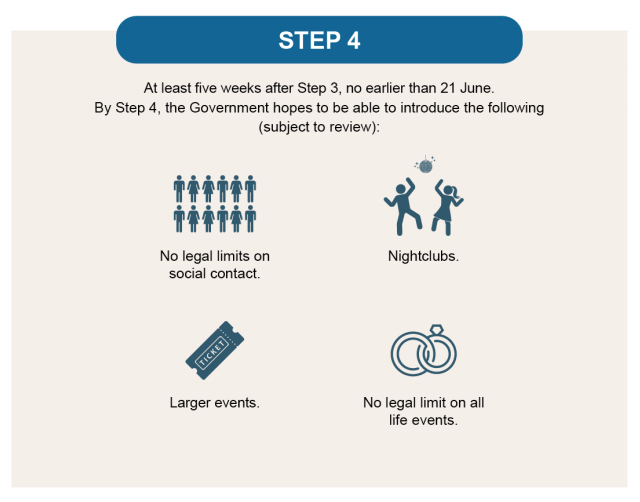 There will no longer be any limit on the numbers of people that can mix indoors or outdoors, Mr Johnson said.
The government hopes to be able to reopen nightclubs and other large-scale events such as concerts.
A decision could also be made on whether to remove limits on wedding numbers.
He added that proving you have had a coronavirus vaccine will make it easier to do things and help unlock the economy.
Mr Johnson also said that four reviews will take place at this stage of the lockdown easing.
One will assess how long we need to maintain social distancing and face masks.
A second review will consider the resumption of international travel. A successor to the Global Travel Taskforce will report by 12 April so that people can plan for the summer, he said.
The third review will consider the potential role of Covid status certification in helping venues to open safely.
The fourth will look at the safe return of major events.
The tests which must be passed at each stage
The Prime Minister again outlined four conditions that he said must be met at each step before it can proceed. They are:
The coronavirus vaccine programme continues to go to plan
Evidence shows vaccines are sufficiently reducing the number of people dying with the virus or needing hospital treatment
Infection rates do not risk a surge in hospital admissions
New variants of the virus do not fundamentally change the risk of lifting restrictions
'The end really is in sight'
In his closing comments, the Prime Minister didn't rule out reimposing restrictions at local or regional level "if evidence suggests they are necessary to contain or suppress a new variant which escapes the vaccines".
He added that "we must always be humble in the face of nature and we must be cautious" but said he also believes that the vaccination programme has "dramatically changed the odds in our favour".
Mr Johnson finished his statement by saying: "Today the end really is in sight and a wretched year will give way to a spring and a summer that will be very different and incomparably better than the picture we see around us today."
'We have to tread very carefully' - How Labour responded to roadmap
Labour leader Sir Keir Starmer welcomed the Prime Minister's cautious but irreversible approach, saying he wants the current lockdown to be the last, and praised the NHS for the progress made in the vaccine rollout.
He told MPs in his response to Mr Johnson's statement: "It is the light at the end of the tunnel but If we're going to get there, we have to tread very carefully. So I'm glad the prime minister spoke today of caution, of this being irreversible, of assessing the data and following the evidence.
"Those are the right guiding principles and I have to say it's a welcome change from some of the language the prime minister's used in the past."
Mr Starmer called on Mr Johnson to publish the medical advice on the reopening of schools and asked if the UK's Chief Medical Officer Chris Whitty supports the measures announced.
The Labour leader also urged the Prime Minister to think again about the mass vaccination of teachers so that schools will be able to stay open once all pupils return.
He also called for self-isolation support to be extended to anyone who needs it, and says people who cannot afford to take time off work should be supported to stop undermining the work done so far.
Mr Starmer also asked for an increase in business support and in particular people who are self-employed.
The Prime Minister said Chancellor Rishi Sunak will outline more about financial support in the Budget next Wednesday (3 March).
Keep up to date with all the latest local and national developments here: https://www.questmedianetwork.co.uk/news/daily-coronavirus-updates/.