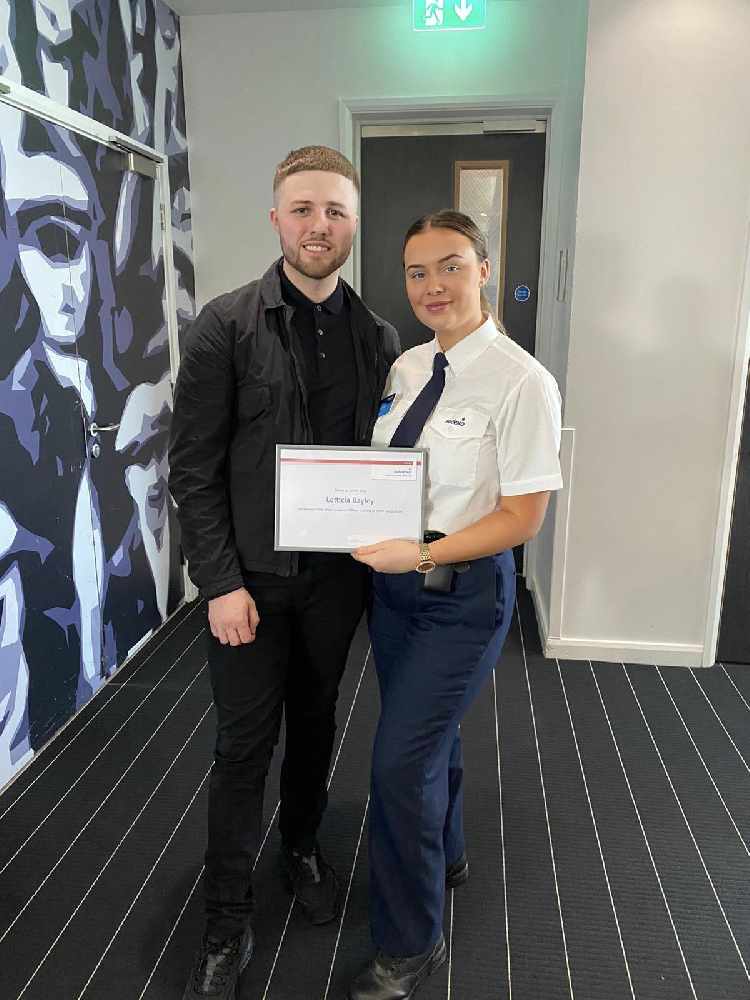 Tameside Care Leavers are making the borough proud after taking on key worker roles in the battle against the coronavirus.
Twenty-four young people who have been through the care system in Tameside are working in roles to help keep people safe or keep services going.
They have all been given support from Tameside Council's Looked After Children's Service and Leaving Care team to make their way in life and find their vocation.
The jobs they have gone into vary but are all vital in helping the community get through the pandemic.
Three are employed by the police, three more work in care homes supporting the elderly and vulnerable, one works in children's homes, one is a Covid-19 helpline operator and another is a prison officer.
Other roles include working in retail or warehouses to get essential items to people and working for the council in crucial services such as refuse collection.
Councillor Bill Fairfoull, Tameside Council's Deputy Executive Leader with responsibility for Children and Families, said: "I'm so proud of our Care Leavers who have gone into a range of jobs that are vital in keeping people safe and services running during the pandemic. It's wonderful that, with the guidance and support of our Looked After Children's Service, they have gone on to find their vocation. Every single one is a huge success story in achieving independence and I'm delighted to hear how well they are all doing.
"As an adopted child myself, I know from first-hand experience how important a loving and stable environment is. When a looked after child is taken into care the council becomes their corporate parents and we care and advocate for them as if they were our own children and do all we can to ensure their welfare, safety and success. I'm sure the whole borough will join me in taking pride in their achievements and wishing them all the best for the future."
Some apprenticeships at the council are also ring fenced for care leavers with many currently working in essential council roles. Information about the Leaving Care team can be found at www.tameside.gov.uk/careleavers and current vacancies by calling the team on 0161 342 3168.
Case studies detailing three of the care leavers' journeys can be found below.
Caring Rhiannan looking after vulnerable in time of need
Rhiannan Smith is giving care and support to the vulnerable during the coronavirus pandemic.
The 20-year-old began a new job at a care home in Ashton at the beginning of March providing personal care and activities for male residents with a dementia diagnosis.
Rhiannon looked after one resident in his final hours after he became ill and needed one-to-one care. The gentleman's son was sadly unable to travel to be with him in time.
Rhiannan, from Ashton, said: "I was with him all that day. It was absolutely heart-breaking. It's the first time I have seen anyone die. I was very emotional but I would rather help people than let them see me upset. I've felt myself tearing up but controlled my emotions."
The pandemic has been stressful and has meant working long shifts while wearing personal protection equipment like masks for 12-hours a day to keep everyone safe.
But Rhiannan says she loves working and is happy to be busy, adding: "I just think in life you have to look after people. I like caring for people, especially those that need help. That's how I am in my nature."
Rhiannan moved into care at 15 and the support given by Tameside Council's Looked After Children's Service and Leaving Care team has helped her find her vocation.
She said: "They've given me a lot of help – I wouldn't be here without them. Moving into care is quite scary but they have been really helpful and taught me how to do it. I've kept in touch with everyone and they've supported me a lot."
After leaving school with a qualification in health and social care, she was helped by the council's transition support team into a traineeship with Active Tameside on an initial two-month placement that became a 12-month contract. She went on to provide disability support for adults with autism before her new job.
Moved by the public support for key workers, she added: "I think it's amazing that everyone is out clapping and showing their support."
Danny's a Master in protecting young people
Danny Haughton has been ensuring that young people in Tameside's children's homes stay safe during the lockdown.
The 24-year-old residential childcare worker helps look after teenagers in two children's homes in the borough.
As well as completing paperwork, Danny has been keeping the youngsters entertained with activities and walks while ensuring they follow social distancing rules.
Danny said: "We're trying as much as we can to carry on as normal. The young people are being very good and are sticking to the guidance and being in the homes more often has been positive in helping build relationships with them."
Danny, from Glossop, went into care at the age of nine and lived with foster carers until he was 19, before moving into a flat in Ashton then going to university. He got a degree in criminology and a Master's in social policy at Salford University, becoming the first Tameside Care Leaver to do a Master's Degree.
He's endured some tough times, losing all his belongings in a burglary just before going to university and twice helping his brother recover from diabetic comas.
Danny's been supported by Tameside Council's Looked After Children's Service and Leaving Care team, saying: "Some people have given me tonnes of help. I will do anything I can to help other people in the service or children in care."
He's been in the role for the service for 18 months, adding: "With my experience of just leaving care myself I thought I could use that to help people in care. I love it, it's great. I've got really good relationships with the young people I'm working with – they see me as an older brother. It doesn't feel like work and it's always different."
He wants to use his experience even more to help other young people, such as in mentoring roles.
Life on lockdown has its rewards for Letticia
Life on lockdown is something we've all had to adjust to but it's meant even greater constraints for a service used to not having freedom.
Letticia Bayley, from Denton, began working as a prison custody officer in January, but coronavirus means prisoners are now on a restricted regime with less time out of their cells.
The 21-year-old said: "They're usually out of the cells quite a lot but it's really restricted now to an hour a day. It's frustrating for them and us but there's nothing you can do about it."
While prison can be a difficult environment at the best of times, Letticia adds: "I thought it would be a lot worse than it is but it's been pretty calm."
Letticia was in care from the ages of 10 to 15, looked after by foster carer Maggie Laybourn.
"She was great and took me on lots of holidays," she said. "I had a really good time in care to be honest."
Letticia has worked since her last year of school, being employed by KFC, H&M and the Department for Education before finding her vocation in the prison service.
She said: "I just wanted to do something rewarding where I felt I can actually help people and get something back from it. It's a very different job and something different every day. It's very unpredictable and rewarding.
"If I can make an impact on their life and they don't end up going back into prison then that's rewarding for me as I have helped them."
She's pleased to see the support for key workers but adds: "I feel like the prison service is kind of forgotten about. I don't think people realise we are a key service. It's a very forgotten service with the amount of stuff we have to deal with."
She points out the range of skills needed to maintain safety and order, from acting as a mental health worker one moment to a nurse the next, adding: "I'm only 21 but I feel like I'm a mum to these people."
Photo: Letticia Bayley and her partner.