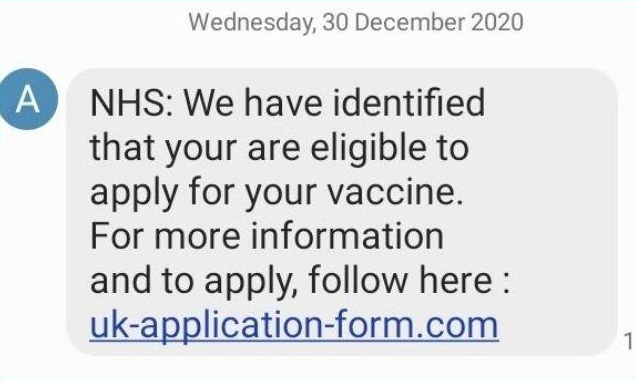 People are being alerted to a highly believable scam via a fake text message purporting to be from the NHS.
The text (pictured) will tell the recipient that they are now eligible to apply for the new vaccine and to click on the link to apply.
The link takes you to a website, which looks genuine, and asks the user to complete a form asking for the following information:
Name
Date of Birth
Address
Payment card details
Proof of address
This is what the website may look like: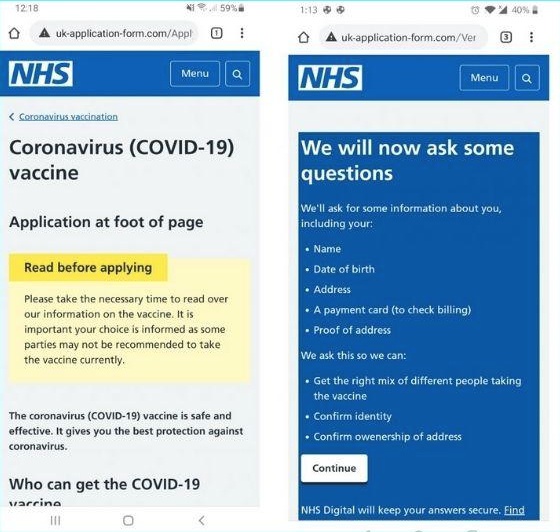 People are being reminded that the Covid-19 vaccine is free, with no payment required.
With the recent approval of multiple vaccines in the UK, these types of scam attempts are likely to continue, as fraudsters continue to take advantage of the roll-out to some many people.
Local Neighbourhood Watch groups are advising people to be vigilant and follow this advice:
Never give out personal details
If you receive a cold call about the vaccine similar to the text above, hang up immediately
They are also encouraging anyone who has been affected by this, or any other, scam to report it to Action Fraud by calling 0300 1232040 or visiting www.actionfraud.police.uk
Keep up to date with all the latest local and national developments here: https://www.questmedianetwork.co.uk/news/daily-coronavirus-updates/.