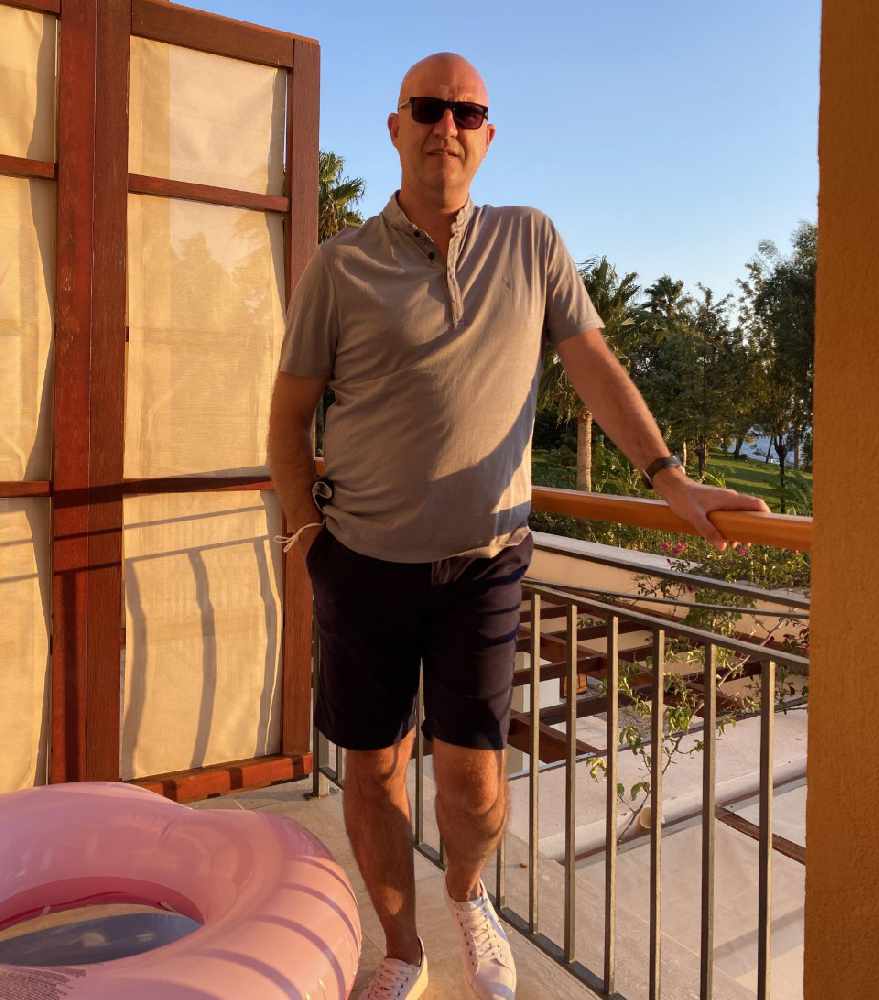 Active Tameside's director has spoken about how he was hospitalised with coronavirus to help highlight the severity of the virus - even in those particularly fit and active - and to urge people to take steps to stop the spread. 
Director of health and social outcomes Shaun Higgins (pictured), from Newton in Hyde, was unfortunate enough to contract Covid-19 and fall seriously ill in March.
The 51-year-old has Type 1 diabetes and told of how he suffered with extreme nausea and vomiting over 24 hours, before being admitted to hospital where it was confirmed that he had Covid-19. The virus had unbalanced his diabetes and made him very ill.
He then proceeded to develop more commonly recognised Covid-19 symptoms, such as a lack of taste and smell, which he continues to experience even now almost six months later.
Shaun remained in Tameside Hospital for eight days before returning home where he was told he would be safer.
Shaun said: "It was quite scary as stories of Covid-19 were all over the media and sometimes I did really feel that I wasn't coming out of this."
Whilst he said he could not speak highly enough of the care and treatment he was given by hospital staff, it was a very difficult experience which has taken not just a physical but also an emotional toll on Shaun.
He said: "Even five days after leaving hospital I was still very sick and unable to eat, having to be stabilised at home. After that I spent the next three weeks in bed, and even then I was only able to get up for a couple of hours a day, which for someone as typically active as me was very difficult."
"I've never been much of an emotional person but there were times when I was just breaking down even when I was on the road to recovery."
"I was off work for 10 weeks and although I've now returned, physical exertion still really takes it out of me. I'm also suffering with short term memory loss which can be a side effect of Covid-19 and have not got my sense of taste and smell back properly."
Tameside Council Executive Leader Cllr Brenda Warrington said: "It's encouraging to hear of Shaun being on the road to recovery, but this should act as a cautionary tale of how severely this virus can affect people, even those who lead a very active lifestyle like Shaun.
"As cases are on the rise it is more vital than ever that we all work together to protect our Tameside community by following guidelines strictly, and being vigilant towards the risks."
Shaun added: "Being on that side of it you understand what the potential risks of the virus are; it's key that people comply with social distancing, wearing masks and washing hands.
"You hope that people will act in community spirit, self-policing and telling other people. I think that's what it's going to take for people to understand."
The council is urging residents to adhere to the coronavirus guidance to keep each other safe and help prevent more people's lives being seriously impacted like Shaun's.
The current guidance includes:
Do not socialise with anyone you don't live with, or that isn't in your support bubble anywhere indoors or in your garden. If you are outdoors in public, do not gather in groups of more than six
Keep your social distance
Wash your hands regularly
Self-isolate if you have symptoms or are identified as a close contact
Wear a face covering
On Tuesday, Prime Minister Boris Johnson also set out a range of new coronavirus measures which could be followed by "significantly greater restrictions" and may last for up to six months, before urging the public to "summon the discipline and resolve" to follow the rules laid out in a bid to prevent a second full nationwide lockdown. Read more here.
People are being encouraged to book a test or order a home testing kit by visiting www.nhs.uk/coronavirus or calling 119 - only if they develop any coronavirus symptoms, which are a high temperature, a new continuous cough or a loss of or a change in your normal sense of smell or taste.