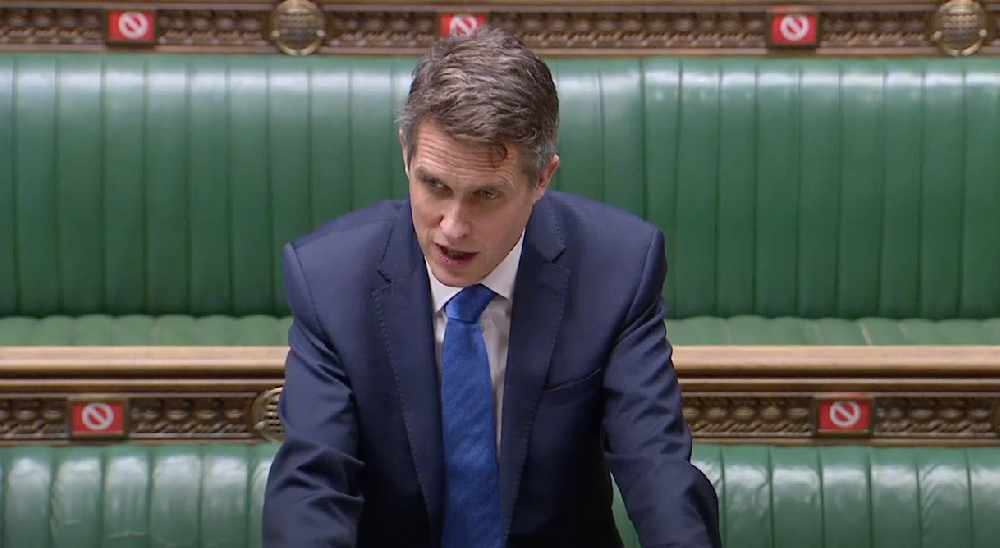 GCSEs, A-levels and AS-level exams will not go ahead in England this summer and will be replaced by some form of teacher assessed grades, the government has said.
Education Secretary Gavin Williamson (pictured) made the announcement in the House of Commons on Wednesday afternoon (6 January).
He said that exams are the fairest form of assessment but it won't be possible for them to take place as normal this year.
"This year we're going to put our trust in teachers rather than algorithms," Mr Williamson said.
He added that details are still being "fine-tuned" but confirmed that a form of teacher assessed grades will be used - with appropriate support to make sure they're awarded "fairly and consistently across the county".
The Department for Education and regulator Ofqual have worked up a range of contingency options, Mr Williamson said.
On the vocational exams and technical qualifications meant to go ahead this month, the minister said students have worked hard to prepare for them so schools can "continue with these assessments where they judge it is right to do so" but he added that "no college should feel pressured to offer these".
He also said that children on free school meals should still get access to them, even if they are not going to school.
Mr Williamson said that the government will continue to regularly test teachers for Covid, as well as those pupils still able to attend school during the lockdown.
In a response to a question from Labour's Paul Blomfield, Mr Williamson also confirmed that SAT testing will not go ahead.
The education secretary said: "We do recognise that this will be an additional burden on schools and it's very important that we're very much focused on welcoming students back into the classroom at the very earliest opportunity."
In her response, shadow education secretary Kate Green accused Mr Williamson of spreading "chaos and confusion".
The Labour MP said that all pupils not in school should get "access to education" and asks for a guarantee that they will be able to learn remotely.
She went on to say that she had wanted exams to go ahead but the risk they would not happen "has always been predictable," and accused ministers of a lack of planning.
Ms Green also called for this week's BTec exams to be cancelled, rather than leave it up to schools and colleges to decide, whilst accusing ministers of a lack of "leadership".
After Prime Minister Boris Johnson announced the current national lockdown on Monday, it meant that from Tuesday, all primary schools, secondary schools and colleges closed to most pupils - except for vulnerable children and those of key workers - and switch to remote learning until the February half term.
Last summer, there was chaos and controversy after the government had to make a spectacular U-turn in how last year's A-levels and GCSEs were graded, which were based on teacher-assessed grades in the end. It came after a standardisation model drawn up by the exams regulator was initially used to award grades instead of exams, which were cancelled.
Keep up to date with all the latest local and national developments here: https://www.questmedianetwork.co.uk/news/daily-coronavirus-updates/.