As part of Quest Media Network's #WeAreOpen campaign, we've quizzed Tameside's finance chief on a number of areas to support businesses and the local economy in getting back up and running. 
In a wide-ranging webinar which you can watch in full at the top of the page, we put a range of questions submitted by local businesses and members of the public to Councillor Oliver Ryan (pictured) - who is Tameside Council's Executive Member for Finance and Economic Growth.
The session held over Zoom was hosted by Michael Taylor, the former editor of multi-award winning business magazine North West Business Insider.
Labour councillor Ryan - who serves the Audenshaw ward - went into detail on how he and the council is getting behind businesses and helping to restart the local economy amid the ongoing coronavirus pandemic.
'Tameside is ready to rocket launch ourselves into the next phase of post Covid-19'
Cllr Ryan, who was first elected as a councillor in 2014 and took over the new brief of Finance and Economic Growth last year, discussed what his role entails and the pressures that Covid-19 has presented to local government - including in Tameside - throughout the pandemic.
He also outlined what support businesses are and are not eligible for from the council, as well as what other packages of support might be available in the future.
Cllr Ryan said how councils are working across Greater Manchester to support networks of businesses and widening procurement throughout neighbouring boroughs to ensure growth going forward.
He also explained more about the new Tameside Business Resilience Clinic, which has been set up by local businesses and the council's Economy, Employment and Skills team for local businesses which have encountered difficulties as a result of the coronavirus pandemic.
The webinar also discussed what the Tameside economy is good at and where it can improve in the future so the borough is "punching above its weight" on a regional and national level.
Cllr Ryan also said the council is looking to help businesses formulate plans to ensure they can get through the next 10 years and that Tameside as a borough is ready to "rocket launch ourselves into the next phase of post Covid-19".
Among the other topics covered were getting town centres thriving again and the council's role in that transformation, as well as improving cycling and access to storage hubs for bikes in Tameside.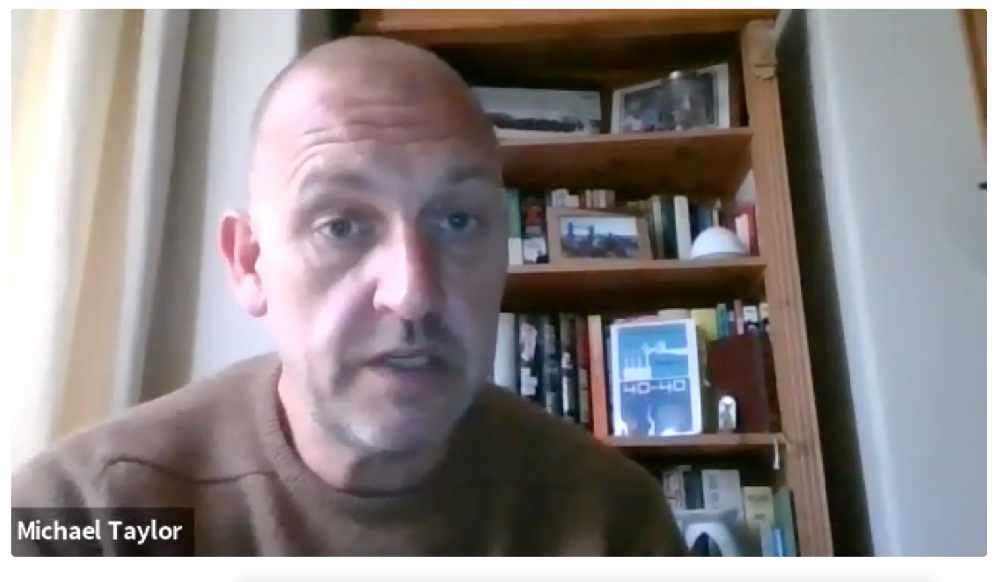 Michael Taylor, who hosted the webinar, used to edit the North West Business Insider magazine
'Get in touch and have a conversation with the council'
In terms of support for businesses and residents, Cllr Ryan explained why there isn't much head room for raising business rates and council tax in order to generate revenue to add to funds received by the government.
But he stressed that people struggling to pay business rates and council tax can "get in touch and have a conversation" with the council about what can be done to support them during these tough times.
Cllr Ryan said: "We realise it's a difficult time. It isn't all about the council - it's about how we can support our communities as well. We are one part of that whole Tameside family and we've got to make sure that whatever we do, we do it with them in mind."
However, he also warned that the reality is that the picture could look completely different in 12 months' time.
Cllr Ryan told us: "Ultimately, the question of finances means that in a year's time if we have this conversation again, I could well be sat in front of you saying we haven't had any more support from government, we didn't get any more support in terms of the cost of Covid-19 and we are now having to cut X number of jobs from the back of this. That's the reality of it. It would mean services being shut down, which nobody wants to do."
The success of #WeAreOpen
Cllr Ryan has endorsed our #WeAreOpen campaign and commended Quest Media Network - which incorporates the Tameside Reporter and Tameside Radio - for helping to give businesses which are the heartbeat of communities across the borough a platform as we enter a new normal.
He said: "I absolutely praise Quest for trying to lead on this issue at this time. The council is obviously part of that whole Tameside approach but for an organisation like Quest to really take on that mantle and say 'we are going to help get businesses open through this #WeAreOpen campaign, which has been massively successful.
"I think they should be applauded in that hugely for the extra work they've put in and I really hope that businesses engage with them and then in turn engage with us about what we can do to help them."
'We are an economy in our own right and everyone has a responsibility'
Non-essential shops and retailers have reopened their doors throughout the borough, with more establishments such as pubs, restaurants and hairdressers due to follow suit from Saturday 4 July following Boris Johnson's announcement on Tuesday afternoon (23 June).
Cllr Ryan spoke about the responsibility that everyone has to support our local businesses and economy going forward but, most importantly, people do so in a safe way.
He said: "I suppose the motivation for me is that businesses, residents and shoppers - everyone who is involved in that sphere in our town centres - everybody has a responsibility to make sure that not only can we get back to normal, but we can do it safely.
"I think 'back to normal' is probably the wrong phrase actually because I don't think we will be for the foreseeable, but I think we all have a responsibility to make sure that whatever we do, we do it in a safe and responsible way but that we support our businesses where we can.
"So, if you can maybe shop but you don't necessarily shop at a peak time, or you won't hang around a certain shopping centre, you might get bits you need and then head on to somewhere else so other people can move in. These are responsible steps that we can take. Making sure you wear face coverings and shops have proper protocols in place.
"These are all things which will enable us to get back to some form of flexibility and movement sooner to help businesses get back and ultimately for the success of our town centres and our economy. This is a massively important part of Tameside - we aren't just a block on the edge of Manchester, we are an economy in our own right.
"We need to support the strength of our local economy and getting people back out using those services and buying those goods is a really important part of that. Anything we can do to support that is really important but the responsibility is on all of us."
You can watch the full webinar with Cllr Ryan at the top of the page.
Here at Quest Media Network, we have launched a #WeAreOpen campaign to support local businesses and traders as they re-open their doors. Find out more and read more stories at https://www.questmedianetwork.co.uk/news/business/.