Life has been anything but a 'Fairytalez' these last few months for sisters Lynn Holt and Angela Day, who run the wedding boutique of the same name on Melbourne Street in Stalybridge.
But that has not stopped the determined duo in ensuring every bride-to-be can still enjoy their special day in one of their 'Fairytalez' dresses.
However, the sisters shared some of the difficulties they have faced since lockdown with Tameside councillor Oliver Ryan, Executive Member for Finance and Economic Growth.
He has been touring local businesses across Tameside's towns to discover if the council can offer further assistance, plus find out how local business is faring in these unprecedented times.
Lynn and Angela opened their Melbourne Street shop again on June 17 - but having only fulfilled their 'dream' of opening the business in January - they say it has already been a tough 2020.
Lynn said: "It has been extremely difficult. We did get the government grant but we had to pay stock suppliers and also rent.
"The only help we could then get was Universal Credit because we have no books for the 12 months prior with only opening in January. So these have been very difficult times."
Although back open and trading, appointments have to be limited and only three people at any one time can attend to ensure social distancing measures are met - meaning more than one appointment for brides and bridesmaids now becomes necessary.
"This was our dream," added Angela, who said they had been doing really well upon opening.
"We can only pray things will pick up again - we have wanted to do this for a lot of years," she said, "but we are hopeful for the future."
The councillor also visited Eye Candy in Stalybridge, owned by Angela Blemmings, who, as we reported last week, had been campaigning for beauticians to be allowed to reopen.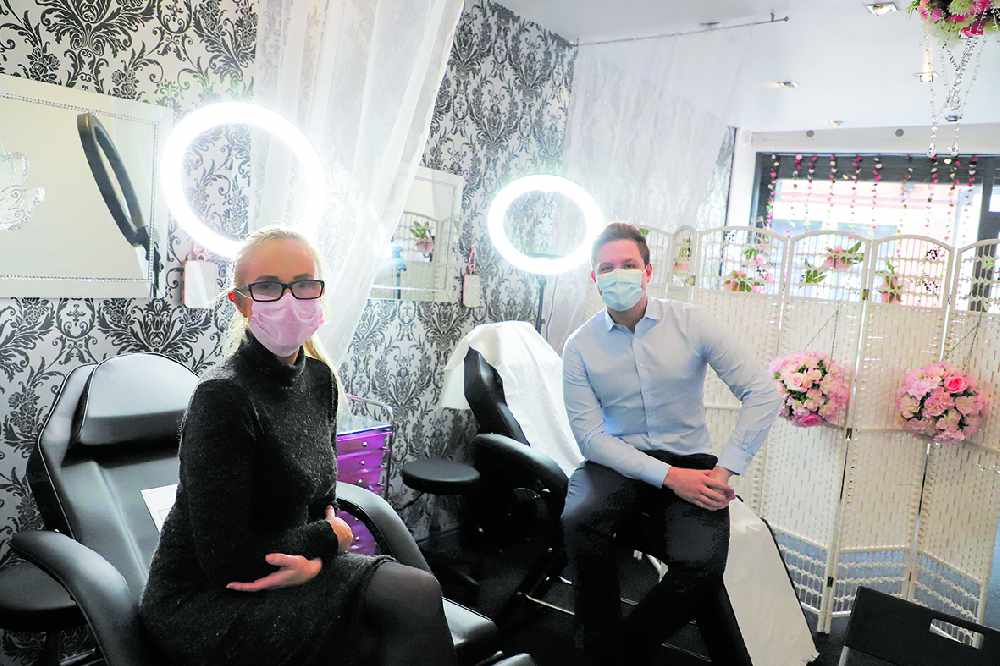 CLOSED: Angela Blemmings explains the harsh realities facing the beauty industry as her own business, Eye Candy, remains shut due to government guidelines.
Culture Secretary Oliver Dowden announced on Thursday that salons, nail bars and tattoo parlours can now finally reopen from Monday (13 July).
Angela explained the situation that her business has been in.
"I'm surprised they have separated us from the hair industry - the beauty therapy industry has very high standards of hygiene - I don't know where the government has got its information from to be truthful," she told the councillor.
She said she had been eligible for a £10,000 business grant from the government which had enabled the business to pay rent for the premises.
But Angela also explained how many self employed have slipped through the net - unable to apply for Universal Credit or other funding due to terms and restrictions.
"The beauty industry is 90 per cent women - so taking maternity or working around children means many have quite low incomes anyway - and now it's like they have just shut down the industry and that's it.
"We also pay public liability insurance which is fine when we are trading - but we are still having to pay that which can be around £100 a month and are not being given any breaks while we are closed down.
"We have so many outgoings but no income."
Cllr Ryan said he was grateful to business owners taking the time to talk with him and it was important for people to be aware of their stories.
Main image:
TOUGH TIMES: Although open again, Fairytalez proprietors Lynn Holt and Angela Day tell Cllr Oliver Ryan how badly the wedding industry has been hit.