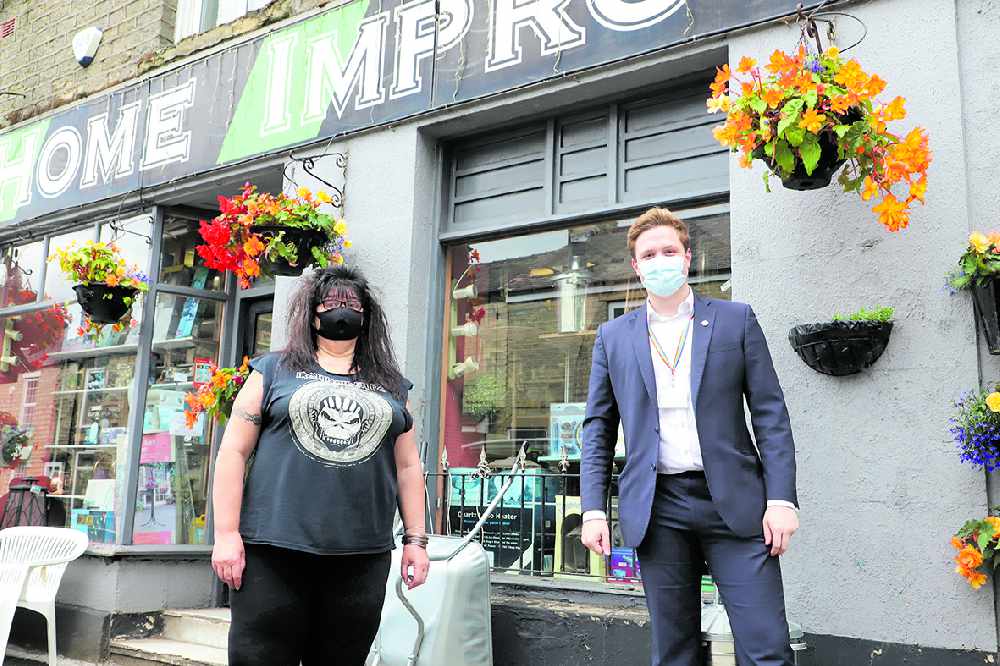 Councillor Oliver Ryan, Tameside Council Executive Member for Finance and Economic Growth, has continued his tour of Tameside's towns, meeting with local business owners to see how they are doing post lockdown.
'Humbled' by community award
Craig Patterson, Patterson's Family Butchers, Manchester Road, Bottom Mossley, provides all your usual butcher supplies, plus fruit and vegetables, muffins and pies.
The award-winning butchers has recently received a High Sheriff Special Recognition Award from the High Sheriff of Greater Manchester for 'outstanding activity and contribution to the community' through the pandemic, which Craig described as 'humbling'.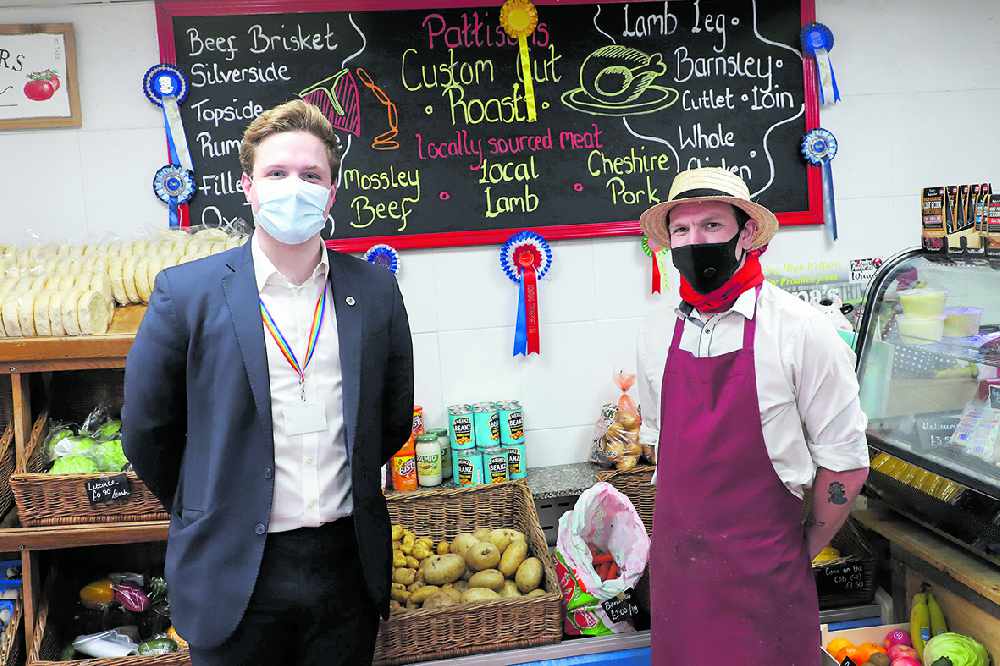 The award 'recognises the appreciation of the people of Greater Manchester for the altruistic acts of thoughtfulness and kindness during the C-19 Pandemic.'
"It's been strange, but still busy and we have just carried on," says a modest Craig.
"We've continued with the delivery service and just helped out people as much as we can and knuckled down and carried on," he added.
The Gillery on Old Brow, Mossley
The Gillery officially opened its doors again earlier this month once pubs and eateries were permitted to start trading once more.
But the business, located within the former RBS Bank, continued to offer a takeaway service throughout lockdown.
Dermot Gill runs the business, named after his father who sadly passed away in January.
"We started the takeaways about a month into closure," explained Dermot. "Which helped to keep people interested in the business."
The bank has been converted to a trendy setting where you can enjoy the finest local ales and amazing pies.
From the local Millstone brewery you can sup the likes of Tiger Rut, Three Shires Bitter and True Grit.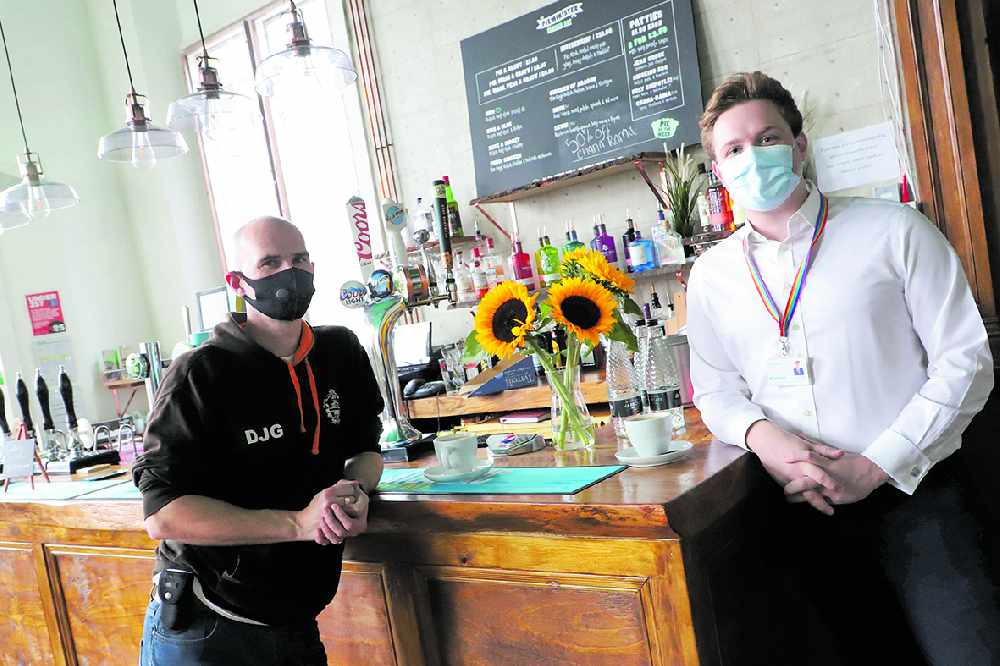 Award-winning Pieminster artisan pies on offer look great and taste amazing.
There's also an exciting new 'lite bites' menu from the deli bar, delicious desserts or simply sit back and enjoy a coffee.
The Gillery is open Wednesdays to Sundays from 11am in the week and from noon on Sundays.
Dermot said the Business Support Grant had been a huge assistance.
"Obviously a lot of the overheads still had to be paid like the rent and bills such as electric, insurances and machine hires - all have to be paid even though we were not fully open and don't stop because of the pandemic I'm afraid."
There is a new safety system in place, everyone has to sign in at the front door for track and trace purposes, and it is seating and table service only.
Five tables have now been added outside too to assist with social distancing requirements.
Life's a beach salon, Mossley
Lisa Jones is the owner at Life's A Beach Beauty Salon on Manchester Road, Bottom Mossley.
The business focuses on all beauty and holistic treatments.
It has been a staggered return for the beauty industry - the business able to open again as a hairdressers initially but then having to wait for government guidance regarding the opening of beauty salons.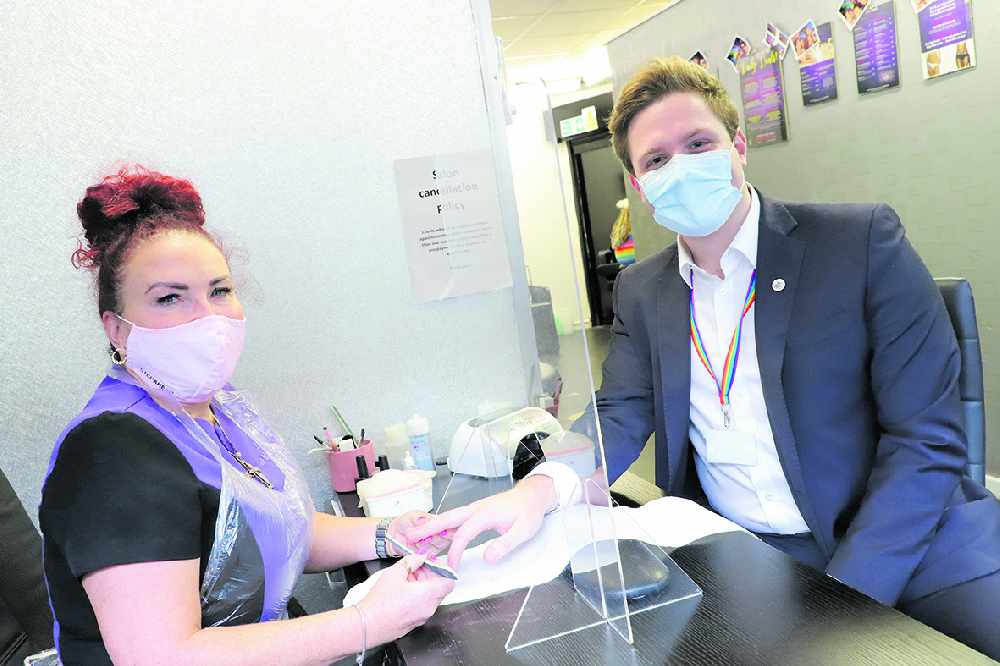 But Life's A Beach is now fully open again.
"It's been really busy.
It's appointments only at the moment because of the strict guidelines. It is all very safe, but it has always been a safe industry so we were very disappointed to be left until last to come back," said Lisa.
"The government has been fantastic - I can't fault them," added Lisa, stating the business received a grant within a week of shutdown.
"I've not made any money from not being open, but I've not lost any money to be fair," explained Lisa.
Mossley Home Improvements
Building and garden supplies providing all you could possibly need.
Since reopening the business has been extremely busy - in fact so busy they have been running out of products and reordering them back in.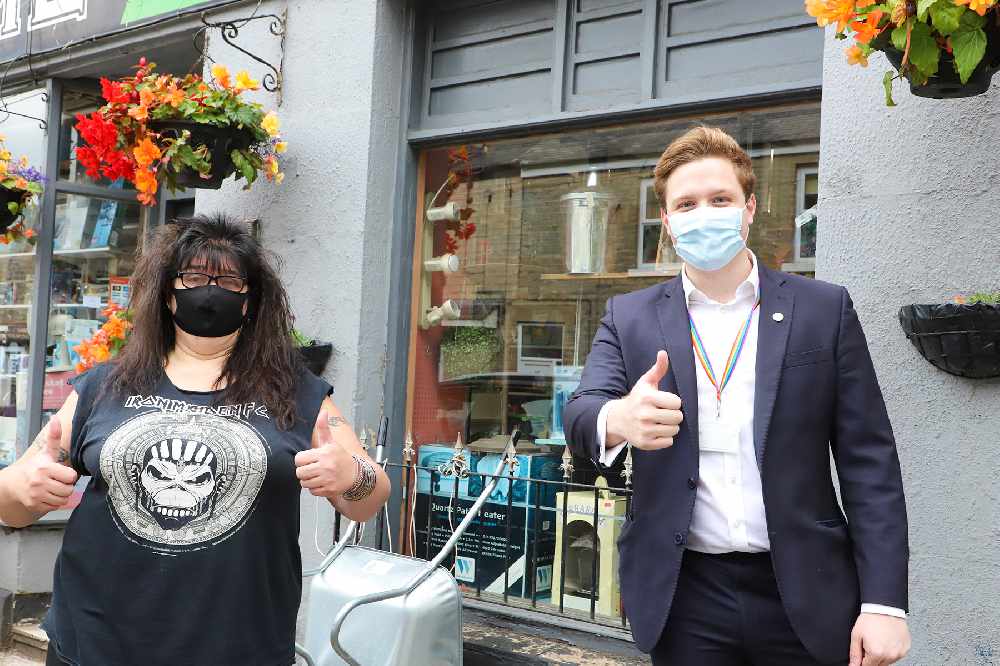 Andrea, at the business, said: "When it was nice weather everyone wanted everything to do with gardening, while inside they have been decorating too."
The business has benefitted from business grant assistance and the government's furlough scheme.
Magpie's Nest, Stalybridge
"It's been really good to be back open," said Magpie's Nest owner Liz Attenborough after the shop opened last month.
"We've had a really good response and customers have wanted to come into the shop - lockdown has been hard for people."
Safety measures have been introduced with screens in place, sanitiser and staff wearing masks.
Staff have undertaken a Covid training course, there is signage, clear social distancing and, as Liz added: "We want our customers to feel really safe when they come in to shop."
Liz said she had benefitted from the government grant help available and praised the furlough scheme as also being very helpful, employing a number of staff and explaining it would take time to get back up to speed again.
She added there is another side too, that the expectation is that everyone might want to return to work, but the reality is that some people are extremely concerned about the virus and how safe it is to return to work.
It has been a hard and tough time though.
Liz said they had missed out on Mother's Day trade when they traditionally do very well, but upon reopening it means they do have a lot of stock which is a bonus with other businesses finding this a real struggle.
On yer bikes everyone
Owners of a bike shop in Denton say business has never been busier, with many people getting on their bikes - quite literally - during lockdown.
Hardy Bicycles Ltd on Ashton Road - which opened its doors for the first time last December - mainly offers services, hand-built frames, E-bikes, conversions, aluminium, and steel welding.
There has been a sharp rise in the number of people who have taken up cycling during the pandemic - as a way of exercising and also travelling to work, now that some restrictions have been eased.
It has meant a busy time for Kirsty and Daniel Lyne, who run the shop - which is open with social distancing measures in place and will soon have cycle lanes directly outside it.
They told us when we popped in: "We opened up for the first time 14 weeks before lockdown. We wanted to open as soon as possible but had to wait 10 weeks for the perspex to arrive, as three different companies let us down.
"Eventually, that came and we did the refit. We put in a new desk and sealed off the shop with wood fencing and perspex. We've got hand sanitisers for the customers and our own PPE.
"Business has been absolutely amazing. We're getting through 25-30 bikes a day and all are same or next day collection, unless they need a new part which we have to order in. We try and give everyone a 15 minute appointment, as only one customer is allowed in at a time. As well as repairs and selling parts, we sell bikes online in conjunction with a company called Freewheel. Customers can order a bike online with them and collect it from us.
"There has been a massive uptake in cycling since lockdown. People have been digging out their old bikes or buying them second hand and bringing them in for a service.
"For a lot of vulnerable people, cycling has been their only means of getting out so we want them to be able to come here and drop their bikes off safely.
"We've been told by the local MP (Andrew Gwynne)w that cycle lanes will be installed on the road outside the shop too, so people will be able to stop by."