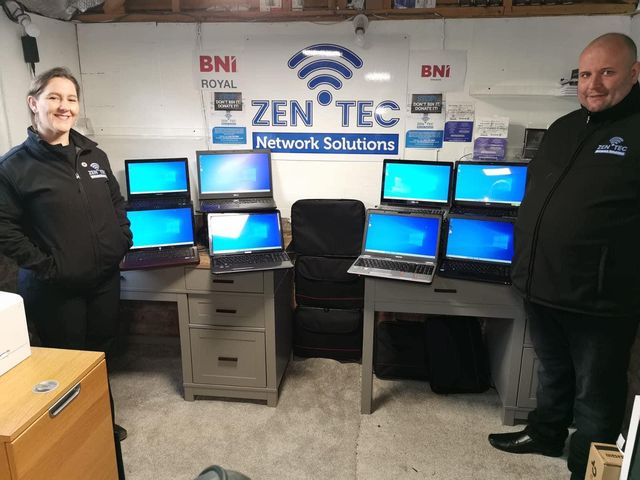 Mike Brooks and Cerid Grimshaw, from Dukinfield's ZenTec Network Solutions, have delivered their first refurbished laptops to help primary school children having to learn remotely during lockdown.
They were filmed making their first delivery to Ravensfield Primary for the BBC news after appearing in last week's Reporter.
The Dukinfield tech company set out last year to ensure no child suffers whilst learning from home by donating refurbished laptops and tablets.
Businesses and individuals have been generous with their donations, gifting old laptops, ipads and other devices for the appeal.
The duo are busy refurbishing and upgrading all of the devices in their own time - and at their own cost - to make them ready for local children to use and this week were all set to make their second delivery of computer items for schools to Buckton Vale Primary.
The old devices are fitted with new, faster hard drives, new batteries and screens if necessary - and they have spent literally thousands of their own money to buy vital items for the computers.
The company had already handed out plenty of devices to a children's home in Hazel Grove, St James Food Bank in Alderley Edge and Tameside East Food Bank.
But Cerid said primary schools seemed to have been forgotten about so they were targeting them.
The duo are still asking local businesses and individuals to donate items plus have set up an appeal for funds to help buy the new parts - having invested more than £2,000 of their own money to date.
"We started asking in November time," explained Mike. "We're in a networking group with other local businesses and I posted asking if they could donate laptops, tablets and desktop computers.
"We'd recently been on a seminar and they said 1.5million children don't have access to technology. We got given a lot of laptops but a lot of them couldn't take Windows 10 so we stripped them for parts."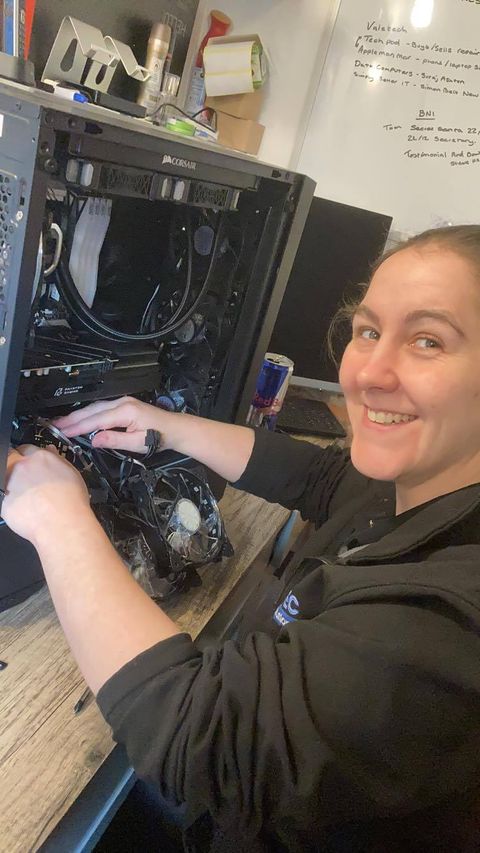 Michael says that they wanted to do all the could to help.
"I was looking on Facebook and seeing people say they're struggling, out of work and now their child has got to do schoolwork online."
Cerid added: "There are pockets of deprivation around Tameside and all around the north west and we take it for granted because we work with IT every day and businesses people every day who have all the computer equipment they need.
"Everyone just assumes you can have this technology and that people can have wi-fi and broadband when they can't.
"So these people get forgotten about because for them what's more important is paying the bills and having food - technology has to come second to that so if we can help we will do all that we can."
Anyone that has any technology to donate can do so by emailing donations@ZenTecNS.co.uk
You can also donate to the gofundme page set up by the company with the funds being used to purchase laptop screens, memory, carry cases, batteries and chargers. and some new devices.
You can find the page at: https://www.gofundme.com/f/helping-children-learn-from-home?
At Ravensfield, headteacher Karen Leyland said the school was incredibly grateful for the donations from ZenTec and they would make a huge difference.
"These iPads and computers will be distributed to the children that we know are really keen to learn," she added.
The school has been allocated devices by the government but needs many more.
Mike had one further request to those making individual donations of iPads/phones to please remove any personal links to iCloud as each one requires individual apple passcodes to deactivate them, meaning he had to contact everyone again individually himself.
You can hear more about this story on the Reporter Show tonight (Thursday) from 7pm on Tameside Radio 103.6FM.