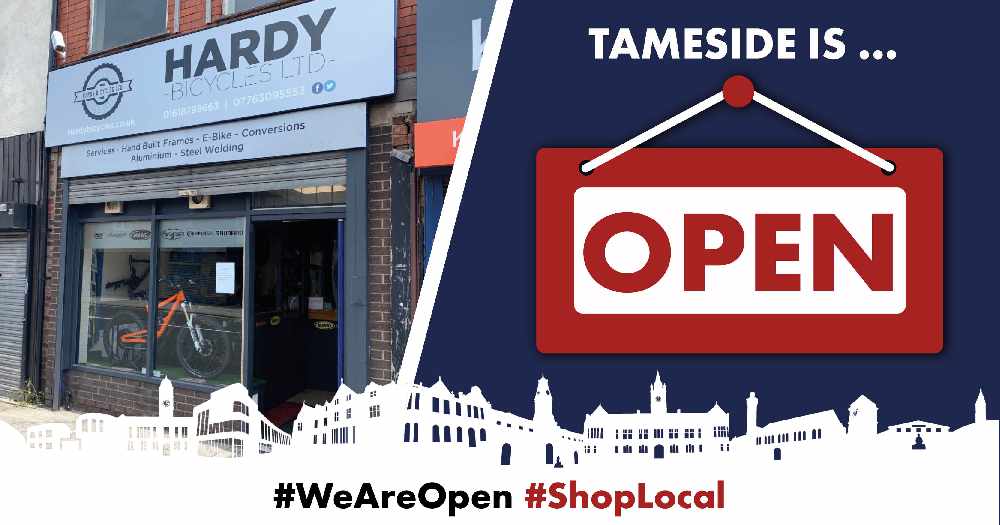 Owners of a bike shop in Denton say business has been "absolutely mental", with many people getting on their bikes - quite literally - during lockdown.
Hardy Bicycles Ltd on Ashton Road - which opened its doors for the first time last December - mainly offers services, hand-built frames, E-bikes, conversions, aluminium, and steel welding.
There has been a sharp rise in the number of people who have taken up cycling during the pandemic - as a way of exercising and also travelling to work, now that some restrictions have been eased.
It has meant a busy time for Kirsty and Daniel Lyne, who run the shop - which is open with social distancing measures in place and will soon have cycle lanes directly outside it.
They told us when we popped in this week: "We opened up for the first time 14 weeks before lockdown. We wanted to open as soon as possible but had to wait ten weeks for the perspex to arrive, as three different companies let us down.
"Eventually, that came and we did the refit. He put in a new desk and sealed off the shop with wood fencing and perspex. We've got hand sanitisers for the customers and our own PPE.
"Business has been absolutely mental. We're getting through 25-30 bikes a day and all are same or next day collection, unless they need a new part which we have to order in. We try and give everyone a 15 minute appointment, as only one customer is allowed in at a time.
"As well as repairs and selling parts, we sell bikes online in conjunction with a company called Freewheel. Customers can order a bike online with them and collect it from us.
"There has been a massive uptake in cycling since lockdown. People have been digging out their old bikes or buying them second hand and bringing them in for a service. For a lot of vulnerable people, cycling has been their only means of getting out so we want them to be able to come here and drop their bikes off safely.
"We've been told by the local MP [Andrew Gwynne] that cycle lanes will be installed on the road outside the shop too, so people will be able to stop by."
Here at Quest Media Network, we have launched a #WeAreOpen campaign to support local businesses and traders as they re-open their doors. Find out more and read more stories like this one at https://www.questmedianetwork.co.uk/news/business/.