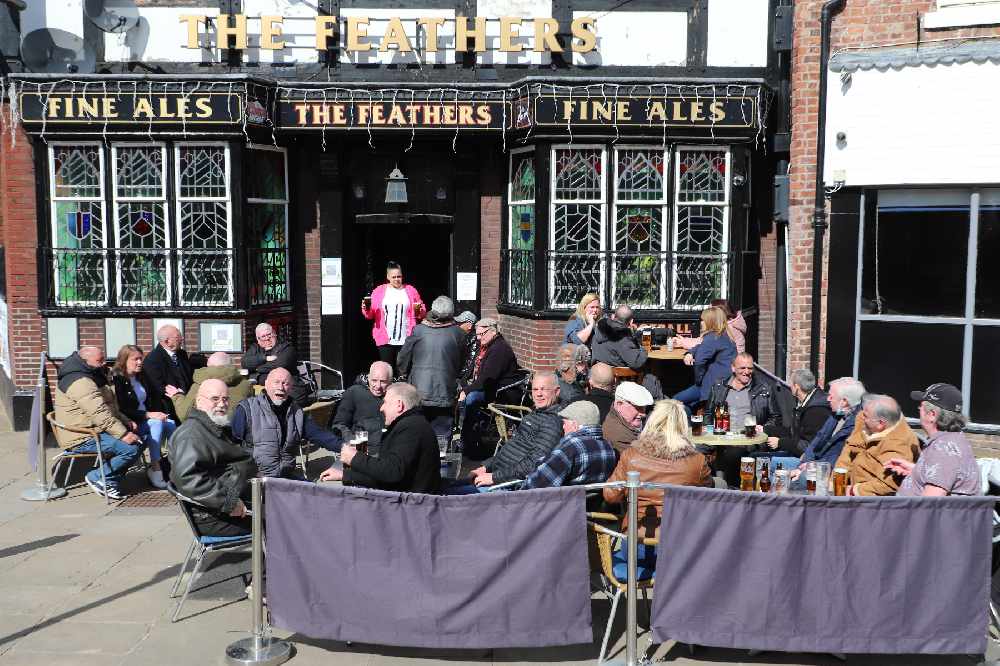 People were being encouraged to shop safely and shop local as Tameside town centres reopened under eased government restrictions.
On Monday 12 April, non essential retailers and close contact businesses such as hairdressers and beauty salons could reopen to clients while pubs, cafés and restaurants could serve customers in outside seating.
Tameside Council compliance officers have been working closely with businesses to support them in preparing to reopen safely and within the rules.
Meanwhile, the council has launched a new 'Welcome Back' campaign, which is encouraging shoppers to support Tameside's town centres and local businesses as they come out of lockdown. It is also providing information to support them to shop and travel safely.
A Tameside Council spokesperson said: "Tameside has a wonderful array of local businesses and shops, they have been through the most challenging of times but have been responsible, resilient and creative in how they have responded.
"We want to do everything we can to support businesses get back on their feet and thrive while also keeping their staff and customers safe.
"Equally, we want to ensure shoppers feel comfortable and confident venturing back out onto our local high streets so they can make the most of the vast array of opportunities they offer.
"We don't yet know how many Tameside businesses are going to have survived the challenges of lockdown and the pandemic, but right now they need our support more than ever.
"It is in everyone's interests to support them to help keep the local economy going, so please do get back out onto Tameside's high streets while shopping safely and shopping local.
"Please remember the basic but very effective safety advice of washing hands, wearing face coverings, keeping your distance and letting in fresh air wherever possible. Importantly get tested and self isolate if you have Covid symptoms."
For more information visit www.tameside.gov.uk/shopsafe
Shoppers were certainly out in numbers as they headed back to the high street in Ashton.
Browse through our photo album of images, taken by photographer Nigel Wood:
After months of enforced closures, businesses up and down the borough were allowed to open up their doors and welcome customers in today, following the latest lifting of the government's restrictions.
Eager shoppers rushed to the streets of Ashton to make the most of all on offer and partake in the much-missed retail therapy.
Hairdressers and personal care establishments have also been able to resume service, with many customers beyond excited to treat themselves and refresh their lockdown look.
The opening of a variety of business has come as welcome news to local shop owners with many seeing their establishments closed since the end of last year.
Decisions, a local independent fashion boutique owned by Val Unwin, could not wait to lift the shutters.
Having functioned via their website throughout the latest closure, Val said it was amazing to be able to greet people in person again, allowing them to continue in the excellent customer service that was on offer before the lockdown.
Val said: "I'm really excited, I've waited too long for this to happen. I have a website and I've done some click and collect but it's nicer to see people."
Ashton Town Team members have been busy behind the scenes ensuring that everything runs as smoothly as possible during the return of shoppers.
Chair Kevin Taylor was happy to share his feelings for the re-opening of the town, reaffirming the importance of following Covid guidelines.
"If you're coming to Ashton it is now safe to visit again, everything is in place for you to come back and you will once again receive fantastic customer service," he said.
Kevin also spoke of his excitement for the arrival of a new artisan market, offering hand-made and bespoke products for shoppers, opening in the town later this month.
Residents are reminded to shop local while following social distancing measures and wearing a face covering if they are able to do so.
Kevin added: "It's the first time since December that we've had local independent businesses that are on the non-essential scale being able to open their doors and welcome customers back in.
"Some businesses did adapt during lockdown with click and collect and website sales, but it doesn't suit every business, it's not a one size fits all, so with the businesses now reopening it's very important that people remember to shop local.
"We've had so many challenges on the high street in the last year and national businesses having to close branches.
"Ashton is very fortunate in the fact we have quite a really significant number of independent locally owned businesses which, without people going in there, won't survive - so it's very important now people shop locally again.
"It is safe of course to go into your favourite shops again, so if you need to go and get a mobile phone from a market stall, if you need to go and buy some new clothes, if you need to go to the jewellers, everything is there for you to come back - and you'll get fantastic customer service.
"It's going to be even better in the town centre with the fact that its now been announced we're getting a new artisan market for Ashton town centre, with the first one on the last Saturday of April and that will bring lots of new makers and unique items and at the same time you can go and support the other businesses in the centre, so Ashton town team is absolutely delighted to be welcoming our businesses back in the town and we hope you will come and use them again."
Images by Nigel Wood
Read more from the Tameside Reporter
Click here for more of the latest news
Click here to read the latest edition of the paper online
Click here to find out where you can pick up a copy of the paper