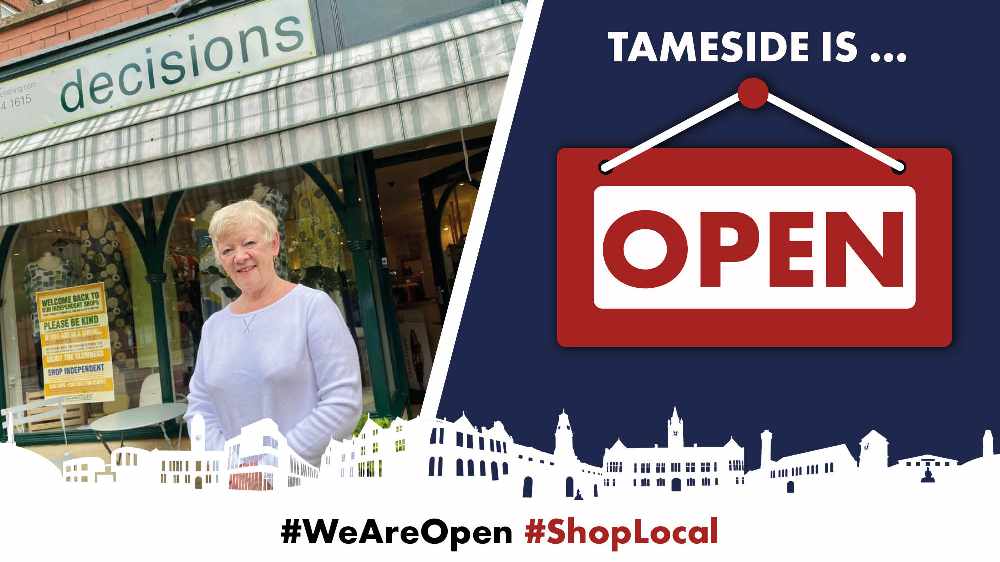 Women's clothes shop Decisions Clothing is back open in Ashton and proprietor Val Unwin - a leader of independent traders in the town - is urging people to 'shop small and shop local' to help get the economy going again.
We popped in to the small independent fashion boutique on Fletcher Street, which first opened in 1999 and offers a range of exclusive fashion labels, on Monday to see how Val (pictured) has been preparing for a welcome return to business after lockdown.
"It's my first day open today," she said. "I've had my shop redecorated and had it all tidied up. I just want people to start coming back to the town now. At the time I locked down, I'd got an awful lot of stock delivered into the shop, and now I need to sell it! I think we just need some good weather to encourage people out a bit."
Val, who is part of Ashton Town Team, has previously spearheaded a number of initiatives to encourage shoppers into the town centre - including the Totally Locally Fiver Fest last year, which we supported by running a unique competition for local residents to win vouchers to spend with local shops and businesses.
She is encouraging people to get behind Ashton's independent traders, at a time when they need your support more than ever.
"I'm passionate about independent retailers and independent businesses," Val added.
"I'm a big believer that without them, the town wouldn't be what it is.
"Everybody has taken as many precautions as they can to make their own shopping environment safe. I just think, 'shop small, shop local.'
"Ashton is open for business so let's get the local economy moving."
Find out more Decisions Clothing and keep up to date on their Facebook page by clicking here.
Here at Quest Media Network, we have launched a #WeAreOpen campaign to support local businesses and traders as they re-open their doors. Find out more and read more stories like this one at https://www.questmedianetwork.co.uk/news/business/.