Here to help you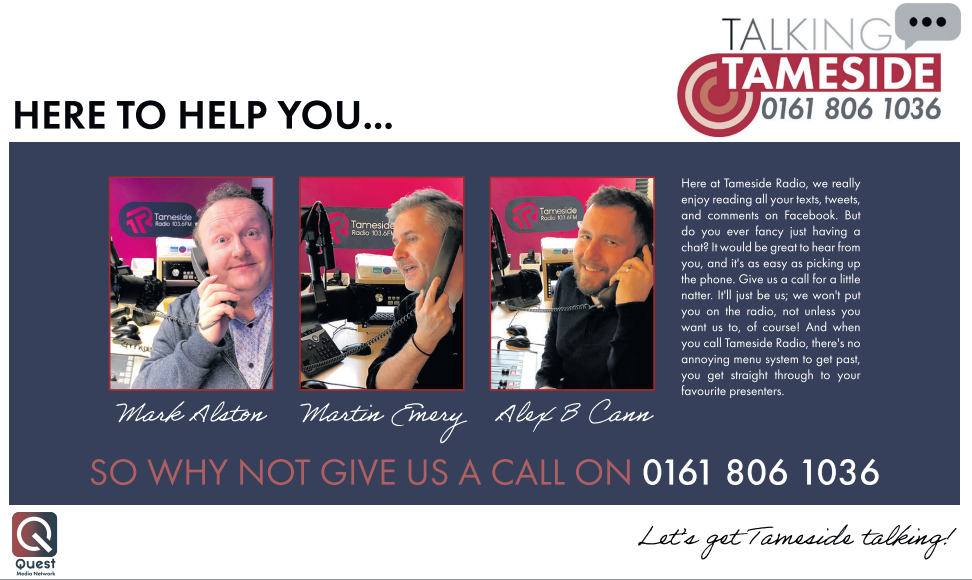 Long, dark, cold nights are creeping closer and closer as we approach the winter months. The general cost of living crisis is affecting many households with its relentless increase in prices in all aspects of our lives.
Many people will be struggling as the pressure piles on and this can feel like a lonely time. You may be worrying more than usual, having thoughts or feelings that are difficult to cope with. But reaching out for help, whatever it is you need support with, might help you feel better.
We have put together a list (below) of support services, organisations, charities, community groups and local volunteers who are all available to help in whatever way you may need.
If you would like to be included in our list, please do not hesitate to contact us and we will include you. Head to our Contact Us page at https://www.questmedianetwork.co.uk/contact-us/  and get in touch with your details.
Food banks offer confidential support to those struggling to feed their families. For free, or for a small fee, people can receive essential items from the following places:
Tameside East Food Bank
Main food bank - Holy Trinity and Christ Church, Corporation Street, Stalybridge, Cheshire, SK15 2JS

Stalybridge Food Bank – St Matthews, Dean Street (between the library and market hall), Stalybridge, SK15 2JD, Open on Monday and Tuesday, 11am-1pm

Ashton Food Bank – New Life Church, Hall Street, off Stamford Street, Ashton, OL6 6SD, Open on Thursday, 1-3pm

Dukinfield Food Bank – St John's Church Centre, on the right-hand side of church building, Vicarage Drive, off Oxford Road, Dukinfield, SK16 5HZ, Open on Friday, noon-2pm
To get in contact, phone 0161 304 9304 or email at info@tamesideeast.foodbank.org.uk
Tameside South and Longdendale Food Bank
St Mary's Hollingworth Food Bank - Market Street, Hollingworth, Hyde SK14 8PP, Open Monday 11am-noon

Hyde Central Methodist Church Food Bank - Crook Street, Hyde, SK14, Open Wednesday 1-2pm
Hattersley Baptist Church Food Bank - Melandra Crescent, Hattersley, SK14 3RB, Open Friday 2-3pm
Call 0333 772 1916 to speak to Tameside South's Food Bank helpline (Monday to Friday 10am-3pm) or email at info@tamesidesouthlongdendale.foodbank.org.uk
Droylsden and District Food Bank - St Mary's Church, Church Street, Droylsden, M43 7BR, Open Fridays, noon-2pm
Call 07473 452813 or email at info@droylsdendistrict.foodbank.org.uk
St Mary's Community Food Bank, Denton
St Mary's Church Centre, Meadow Lane, Denton, Manchester M34 7GD, Open Monday, Tuesday and Friday, from 2-4pm
To receive a parcel, a slot must be booked in advance. Text or call 07479 256785 or email at foodbank@smhg.org.uk.
Mossley Food Bank
Mossley Youth Base, The Rowans, Mossley, OL5 9DR, Open Thursday 9am-noon
Get in touch on Facebook at https://www.facebook.com/MossleyFoodBank.
Barty's Food Bank
New Labour Club car park, Acres Lane, Stalybridge SK15 2JR. There is a £3 charge for 16 items.
Find the food bank page on Facebook at Barty's Community Pantry and Foodbank
St Albans Mission Food Bank
Park Road, Dukinfield, Cheshire, SK16 5PT (opposite Magnum Motors). Open fortnightly on Saturday, 9.30am-1.30pm
Get in touch on 0161 308 4708
Bread of Life Food Bank, Millbrook
Bread of Life, St James' Church, Huddersfield Road, Millbrook, Stalybridge, SK15 3JL
Open Friday noon-2pm and Saturday 10am-noon
Call 0161 883 2731
The Bread-and-Butter Thing, Hattersley
Onward Housing Association, The Hub, Stockport Road, Mottram, Hyde, SK14 6AF
Open Tuesday noon-1pm or Friday 2-3pm
Contact them on 03300 945353 or find them at http://breadandbutterthing.org
Glossopdale Food Bank
Food bank one - Glossop Children's Centre, Victoria Street, Glossop, SK13 8HZ
Open Monday and Wednesday between 10am-noon
Food Bank two - Hadfield Children's Centre, Queen's Street, Hadfield, SK13 2DW
Open Tuesday and Thursday 10am-noon
Food Bank three - The Pantry, Winster Mews, Gamesley, SK13 OLU
Open Tuesday to Friday 10am-4pm
Phone or text on 07811 684282, or for those self-isolating call 07789 191560
Lockdown has left people feeling isolated and alone, but lots of local organisations and charities are supplying support and showing that mental health matters. Here are the groups you can get in touch with:
Minds Matter, 216-218 Katherine Street, Ashton, OL6 7AS
This team of mental well-being practioners, peer support workers and counsellors help people to manage and overcome their difficulties. They are offering one-to-one appointments on the phone or through video call.
To get in touch, call 0161 343 5748
Tameside, Oldham and Glossop Mind, 216-218 Katherine Street, Ashton, OL6 7AS
With 40 years supporting the community, MIND continues to offer online and phone support.
Call at 0161 330 9223 or find out more about their services at https://www.togmind.org/
Tameside and Glossop Healthy Minds, 225 Old Street, Ashton, OL6 7SR
Healthy Minds gives people access to SilverCloud, a self-help programme that offers materials which have had a proven positive impact on depression, anxiety and stress.
People can also self-refer themselves to see one of the counsellors.
Get in touch at 0161 716 4242 or find out more at https://www.penninecare.nhs.uk/healthymindstameside

The Bureau Glossop, Bank House, 22 Henry Street, Glossop, SK13 8BW
Working with communities across Glossopdale, the Bureau connects people dealing with loneliness and isolation. They offer call companions, online social clubs, walks and talks and a befriending service.
Call at 01457 865722 or get more information https://the-bureau.org.uk/
The Anthony Seddon Fund
12 George Street, Ashton, OL6 6AQ
The community mental health charity offers peer support, crafts, music and counselling. They are currently running their Talk Shop, which gives one-to-one counselling interventions for young people and children, this can only be booked by telephone between 11am -3pm on Wednesday, 0161 376 4439.
For more information on events, go to
https://www.facebook.com/theanthonyseddonfund/
Military Veterans Service
Providing mental health support to ex-service personnel for conditions including depression, alcohol and substance misuse, anger problems and post-traumatic stress disorder, the service continues to operate throughout the pandemic.
Call 0300 323 0707 or email mviapt.enquiries.nw@nhs.net
Mentell
Mentell provides circles for men aged 18+ to talk in a safe and confidential space, free from advice and judgement. Online circles can be accessed every Monday at 7pm, when people sign up through the website at https://www.mentell.org.uk/learn/online-circles.
Derbyshire Recovery and Peer Support Service
The support service makes it easy for people to get in touch and discuss their mental health difficulties. Though peer support groups can't continue during the lockdown, the service offers a webchat available between 9am-5pm every weekday.
People can also contact the service through text on 07537 410028.
Mencap
Mencap is the leading voice of learning disability. Its groups have been shut in response to national lockdown, but Mencap has a thriving online community that allows people to ask questions and discuss their experience of living with learning disabilities.
Access the only community at https://healthunlocked.com/mencap
Tameside Pride
Tameside Pride are the driving force behind the yearly Pride parade, but they offer more than that to local LGBTQ+ people. During lockdown, they provide a digital peer support group for members of the LGBTQ+ community. This runs every Wednesday, 5-7pm and includes fun activities.
Call 0333 112 7437 to get involved, or email info@Ariesuk.org.uk
People's First Tameside
Stamford Street Central, Ashton, OL6 6AD
The organisation is focused on speaking up for the rights of learning-disabled people. Throughout lockdown, it is hosting lots of online activities and get-togethers.
• Monday, 6-7pm, Chit-Chat
• Tuesday, 10am-noon, Chat and Draw
• Thursday, 6-7pm, Karaoke Sing-along
• Friday, 1.30-2.30pm, Drop in for different activities such as bingo, crafts and quizzes
Get in contact at speakup@pftameside.org or call 0161 308 3699
Being There
Being There is a charity that offers support to people with cancer and other life-limiting illnesses, along with those closest to them. They are currently offering an emotional support listening line, matching people to a volunteer who will ring them on a regular basis.
Contact them at 0161 217 1373 or 07709 522631
Tameside Health Walks
Tameside health walks are a series of short, guided walks aimed at promoting a healthier lifestyle for older people as well as being suitable for people of varying abilities. The weekly walks are between one and three miles long.
For those interested, they should contact George Cope at 07855 984586, 0161 320 0430 or gjcope@ntlworld.com
Age UK
131 Katherine Street, Ashton OL6 7AW
Age UK are delivering Winter Warm Food parcels across Tameside for over 50s who are shielding. People that are eligible are encouraged to contact them on 0161 308 5000 for a free food parcel.
People can also get in touch for assistance at the same number or email Info@ageuktameside.com
The Shed
The Together Centre, Loxley House, Birch Lane, Dukinfield, SK16 5AU
The Shed is a safe, friendly and inclusive workshop for men to come together. They can share ideas, work on projects and make friends. Many activities are on offer, including woodworking, pyrography, gardening and a cinema club.
To have a look around or chat to someone in the know, contact 0161 368 4974 or 07984037920, or drop an email at mike@theshedtameside.org.uk
Our Kids Eyes
Jubilee Gardens, Gardenfold Way, Droylsden, M43 7XU
Our Kids Eyes is a charity that provides support, activities and information to Tameside families who have children with special needs. Unfortunately, many of its get-togethers have been postponed following the pandemic, but the charity continues to help those in need.
They are giving out emergency food parcels and supermarket vouchers to families who have children with special needs/disabilities.
To get in touch about food parcels, phone 0161 371 2084 or email oketameside@gmail.com.
People can also get in contact at https://www.facebook.com/ourkidseyes.uk
The Prince's Trust
The Prince's Trust continues to help more than 70,000 young people build their confidence and skills. The organisation continues to run both in-person and online employability courses. 11-25-year-olds that are part of the Trust can also access mental health support.
Upcoming events are 'Future Leaders Online' on January 28-29, designed to give 18-30-year-olds a chance to build their confidence. Followed by 'Get Started with Music' on February 1, which gives young people insight into the music industry.
To find out more, go to https://manchester.princes-trust.org.uk/
Emmaus
Queen Street, Mossley, OL5 9AH
Emmaus provides homes and work to previously homeless persons, with all their services funded by selling donated furniture and upcycled products. Though their main store in Mossley has been closed, Emmaus continues to sell items on eBay to fund their services.
Referrals to Emmaus can be done online at https://emmaus.org.uk/get-help/apply/
People can also get in contact on 0300 303 7555
Cancer Research UK
The Cancer Research shops in Stalybridge, Ashton and Hyde are closed due to the national lockdown, but their support hasn't stopped. Cancer Research continues to dedicate their time to helping those affected by cancer.
Their nurse helpline is available weekdays, 9am-5pm, and can be reached on 0808 800 4040
They can also be reached by email at supporter.services@cancer.org.uk
British Heart Foundation
36 Warrington Street, Ashton, OL6 7JS
Though the charity has shut the doors of its stores, their heart helpline continues to speak to callers, especially with questions regarding Covid-19. There are also online question and answer events taking place with cardiac nurses.
To find out more go to https://www.bhf.org.uk/what-we-do/in-your-area/public-engagement-events
To access the helpline call 0300 330 3311. Open weekdays 9am-5pm and Saturdays 10am-4pm.

Reuben's Retreat
Park Crescent, Glossop,
SK13 7BQ
Reuben's Retreat provides a home-from-home for families coping with the serious illness of a child, giving them respite breaks and the chance to build happy memories.
To keep people fit in lockdown and raise money for a good cause, the retreat is encouraging people to take part in a sponsored virtual 874 mile run. More info can be found at https://www.endtoend.run/product/lands-end-to-john-o-groats-virtual-challenge-10/ If you, or any family you know could benefit from the Retreat's services, call 01457 680023 or email at support@reubensretreat.org.
Barnardos
102 Wellington Road, Ashton, OL6 6DJ
Barnardos is focused on the protection and support of vulnerable children. This has never been truer than during the pandemic. The charity has teamed up with See, Hear, Respond to deliver targeted help to those young people and families affected by the pandemic.
To speak to someone about your situation, whether a child, carer or professional, call 0800 157 7015 or find out more at https://www.barnardos.org.uk/see-hear-respond-england
Home-Start Oldham, Stockport and Tameside
Ryecroft Hall, Manchester Road, Audenshaw, M34 5ZJ
Volunteers at Home-Start support families with children under five through individual one-to-one home visiting and targeted support for parents and their children. The charity has also expanded to provide services in Glossop. Support has changed due to the national lockdown, but it continues to give phone and online support. If you are struggling with caring for young children or need support, get in touch at 0161 344 0669 or email at info@homestarthost.org.uk
The Salvation Army
The Salvation Army has shut many of its physical stores, but with places of worship remaining open throughout the national lockdown, churches are being used to give out Covid-19 vaccinations.
The charity has also launched a new helpline focused on supporting survivors of modern slavery, which can be called at 0300 3038151. Main helpline 020 7367 4800. For those looking for homelessness services, they can use the interactive map to find their closest support network at https://www.salvationarmy.org.uk/map-page
Organisations throughout Tameside and Glossop are encouraging people to get creative and beat the lockdown blues. Here are some of the online performances and activities taking place around you:
Derbyshire Libraries
For families and children, there are weekly online events:
• Monday 10am, Storytime
• Wednesday, 10am Rhyme Time
• Friday, 6pm, Family Book share
• Saturday, 10am, Activity Club
For adults, there are online activities lined up throughout each month, including learning how to make a bird feeder and Holocaust Memorial Day. Keep up to date with all upcoming events at https://www.facebook.com/DerbyshireLibraries
HOME Manchester
HOME has launched a free creative project called the Poetry Health Service; people can get in contact over text or online to receive poems and create their own.
'Homemakers' is series of new commissions inviting artists to create new works at home.
For writers and poets, online workshops will take place from 7-9pm and are open to all young people aged 15-25, every Monday.
Tameside Libraries
Tameside Libraries have a dedicated Virtual Library Club that hosts monthly, online meetings, often inviting guest speakers to talk on unique topics. The library also has digital IT support meetings, helping people to gain confidence using technology. It's next big event on February 11, is 'Dungeons and Dragons for Beginners'. Find out more information at https://www.facebook.com/TamesideLibraries/
Arc Centre and Gallery
The gallery is getting people's creative juices flowing, hosting its virtual art studio over Zoom for kids aged four-11 on January 29. Children will learn from artist Jasmine Walne on how to paint like Picasso. Other fun, craft activities are available online and updates on the centre can be found at https://www.facebook.com/ArcCentre/
Outdoor Collaborative
The Outdoor Collaborative is used to delivering outdoor sessions in photography and film-making, but due to the pandemic it has moved classes online. A free digital media training workshop is being offered on the third Wednesday of every month, teaching people to edit photographs using free software.
To get in touch, or find out more, go to https://www.facebook.com/TheOutdoorCollaborative
Noah's Art
Noah's Art uses animals to deliver therapy and are passionate about reducing social isolation. They have taken many of their services online, including one-on-one Zoom sessions and group sessions. To find more information or learn more about the animals involved, go to https://www.noahs-art.co.uk/
Oldham Coliseum
The theatre has launched its Micro Commissions. People can submit video, audio, visual, text or live performance on the theme of health and well-being, designed for audiences to experience at home. Successful applicants will receive a £1,000 investment, support from the Coliseum in production, marketing and a platform to share their work.
Deadlines are January 31, details can be found at https://www.coliseum.org.uk/work-with-us/micro-commissions/
The Lowry
The theatre is launching free, online events to take place on Facebook or Zoom. The confirmed events are:
• Under-sevens' Dance Yourself Happy - every Tuesday at 9.30am for 30 minutes.
• Colour and Craft - every Wednesday at 12.30pm for 30 minutes.
• LS Lowry inspired drawing - every Wednesday at 6.30pm for two hours.
• The Sea Within: Yoga and Mindfulness for children - every Thursday at 12.30pm for 30 minutes.
• Creative writing and poetry - every Thursday at 6.30pm for two hours.
• Walkeoke - every Friday at 11am for 45 minutes.
Keep up to date at https://www.facebook.com/TheLowrySalford/
Together Trust
For 150 years, the Trust has been championing and caring for people with disabilities, autism and complex health needs. Now they're calling for people with care experience to tell their stories for the Trust's archives as part of their Oral Histories Project 2021.
Those interested can call Rebecca Finley on 07557 801 472 or contact her at rebecca.finley@togethertrust.org.uk
Acresfield Community Garden Group
The group maintains a community space located on Acresfield Road, Newton. Their aim is to promote well-being by increasing social cohesion, reducing social isolation and encouraging a sense of community. They are currently making a time capsule and are calling for people to contribute with memories. Get in touch at https://www.facebook.com/AcresfieldCommunityGardenGroup/
HELPLINES
Stalybridge Covid-19 support line
Provides support to residents who are unable to get to the shops for food or prescriptions. Volunteers also offer a friendly voice to individuals who are struggling in isolation.
0333 772 1731. Open weekdays, 10am-4pm
Cloverleaf Advocacy
Cloverleaf Advocacy service in Tameside offers independent one-to-one advocacy to adults for people with mental health needs, learning disabilities. physical or sensory impairment, people on the autistic spectrum, older people, and carers.0161 207 0767. Open weekdays, 9am-5pm
Ask Me Hattersley
Information on services including family support, lifestyle issues and mental health. 0161 366 3914
Carers Centre
Offers a wide range of information and support to carers. 0161 342 3344
Citizens Advice Bureau (Tameside District)
Financial and legal advice. 0161 342 5005

Women's Aid 0808 2000 247

Samaritans 116 123

Anxiety UK Text 07537 416 905
Call 03444 775 774